Transforming while growing
As the oil & gas industry begins to strengthen, the focus is on rising commodity prices, costs and emerging technologies. Many industry executives are concerned that, while the radical adjustments they have made to their cost base and footprint may have ensured their near-term survival, they will not be enough to deliver a competitive advantage in the year ahead. In addition, 2018 has seen tariffs and increasing protectionism threatening to undermine complex global supply chains.
When you are looking at upstream, midstream, downstream or in oil field services, the story is consistent across the board: executives need to capture significant growth opportunities while evolving to a more effective operating model. Risk management is critical to ensuring that any actions taken to participate in the industry resurgence are measured and will reposition them for growth. While digitization is still in its infancy in this industry, companies willing to innovate and invest could gain a significant competitive advantage.
Who we are
We are a specialist operational implementation consulting firm that accelerates measurable performance improvements in both EBITDA and cash flow for our clients across the oil & gas value chain including:
Upstream oil & gas companies
Midstream oil & gas companies
Downstream oil & gas companies
What we do
As specialists in procurement, logistics and operations, we have the track record of accelerating measurable improvement across the buy-make-move-fulfill supply chain to deliver the greatest value to customers at the lowest cost to business.
How we do it
Our hands-on implementation experts work with Oil & Gas executives and their teams to rapidly move up the Total Value Optimization (TVO) Maturity Curve™ by:
Identifying and quantifying the real opportunity Identifying current constraints and barriers
Creating a robust and measurable business case with a clear ROI
Developing a pragmatic roadmap for accelerated results
Working closely with clients to Implement and track measurable improvements
Infusing best practice and delivering a quantifiable ROI
Training, mentoring and enhancing internal teams for sustainable performance
Why we are different
Our integrated approach is different in 6 key ways:
---
Crude-by-rail: Achieving better collaboration with the railroads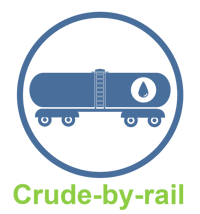 According to US government data, shipments of crude by rail averaged 130,000 barrels per day (bpd) in 2017. With Canadian crude shipments to the United States by rail, this could reach 350,000 (bpd) by year end and average some 400,000 bpd in 2019. This increase in shipments will be dependent on railroad operators' willingness to accept spot deliveries. Companies such as Canadian National Railway, have insisted on long-term crude-by-rail commitments before providing more rail capacity.
Each segment in the oil and gas value chain will need to seek new strategic approaches to increasing capacity with minimal disruptions, lower costs, easier and more direct route utilization, intermodal optimization, and increased optionality. Learn More>
---
Want to find out more?
---
Clients Speak
Maine Pointe's unique approach to a savings guarantee for clients, combined with their deep knowledge and practical work experience in supply chain management, sets them apart from others. Through an intense evaluation of existing practices and their focus on low capital investment solutions, sustainable process improvements are developed and implemented that yield real and measurable benefits for the long term."

Director, Logistics and Distribution, Irving Oil
---
I am happy to report that not only were our joint savings targets exceeded, but that our supplier relationships and transparency have also improved. The practical and hands-on approach of the Maine Pointe team has laid a solid foundation for on-going improvements."

Bill Grainger Director of Transportation, Suncor Energy