Oil & Gas Industry Overview
Critical drivers and rising uncertainties
Confidence is growing in the energy, oil & gas industry. Years of imbalance in the market may reverse as we see an uptick, although mitigated, in global demand fueled mostly by China and Brazil
According to the IEA World Energy Outlook, 2017 "the world needs to find an additional 2.5 million bbls/d of new production each year, just for conventional output to remain flat"
For oil, 2019 has begun with significant production decreases across the globe aimed at driving crude prices higher, despite production steadily ramping up in the US. US production will continue to grow given rig count and well completion
When it comes to gas, the market is expected to remain optimistic as a continued and gradual shift away from coal-generated energy continues, slightly dipping in the summer months; however, this may be offset by growing international demand which will keep prices elevated
Asian demand for LNG is expected to continue to grow in 2019, as the cleaner properties of gas are making it an increasingly popular fuel in Asia. A risk to our outlook is rising LNG supply, notably from the US in 2019, which may act as a lid on LNG pricing as early as this year
Geopolitical issues such as US sanctions against Iran and intensifying US/China tariffs and trade war may have an adverse impact on global demand, but global consumption will still trend to the 100 – 105MM/bpd daily average
With a predicted slowdown in global economic growth rate for oil demand this year, increased governance is critical in balancing refining capacity and distillate availability
Responding to demand growth
In response to the industry's prolonged squeeze in profits, many companies have scaled back investments in capital and talent. As the average tenured oil worker reaches retirement age, companies are finding themselves facing a skills gap. In addition, misguided application of lean and agile into essential areas through cost-cutting may well come back to bite companies and hamper efforts to ramp up production in the most effective manner.
Digital transformation is key
Digital transformation is a keynote across the industry with Asian manufacturing companies leading the way in the pursuit of new technology. Getting ahead of the digital game will give companies a competitive advantage. It is imperative that businesses in the US and Europe keep up.
The rate of technological change is already driving digital transformation the world over. The volume of connected data available to operators continues to grow quickly. Much of this is being driven by the ongoing expansion of the Industrial Internet of Things (IIOT) market.
When looking at upstream, midstream, downstream or oil field services, the story is consistent across the board: executives who are intent on reaching more profitable returns (ie, EBITDA/bbl) will continue to leverage enormous data and analytics to affect their actions in capturing significant growth opportunities, faster, while evolving to a more effective, digitally-led operating model. Risk management is critical to ensuring that any actions taken to participate in the industry resurgence are continuously evaluated, specifically as it pertains to reposition growth objectives.
Who we are
We are a specialist operational implementation consulting firm that accelerates measurable performance improvements in EBITDA, cash flow and growth for our clients across the oil & gas value chain including:
Upstream oil & gas companies
We are starting to see additional structural moves by upstream companies in a bid to drive further efficiencies from improved production. The goal is to optimize the end-to-end supply chain resulting in increased EBITDA and cash generation
Procurement, operations and logistics are the focus areas where companies will seek to drive additional efficiencies and realize between 10-25% incremental improvement on margin/barrel
As executives focus on growth and recovery, digital technologies will become critically important for improving productivity and efficiency and to mitigate higher costs brought about by rising oil prices. For example, a core part of exploration, seismic imaging is a process already rooted in data analytics and 3D visualization models
Exploration and production (E&P) companies moving into the next generation of seismic imaging are experimenting with 4D models that integrate production data to map changes in reserves' oil and gas levels. These advances aim to more precisely pinpoint the quantity of resources and the lifespan of each well
Midstream oil & gas companies
The current tariff environment may impact pipelines and storage. US pipeline construction and repair activity rely on imported finished goods and imported parts used for domestic manufacturing of line pipe, fittings, and valves
Some of the technology being employed under the Industry 4.0 banner include mobility sensing and surveillance systems like drones equipped with thermal imaging systems which help identify points of vulnerability, like corrosion and leaks, across pipelines
Key areas of transformation include improvements in data management to track inventory levels and monitoring system. Real time fuel consumption data feeds refinery production demand in true, dynamic S&OP resulting in mitigated supply position and cash release
Downstream oil & gas companies
Downstream oil & gas companies are facing major regulatory issues on the renewable fuel standards front and the phase-in to 2022. This has created an additional level of complexity to refiners. Refiners must comply with increasingly stringent air and water quality regulations and are also required to address tighter fuel quality specifications while juggling continued and increasing feedstock variability. This will force refiners to adapt their process systems to accommodate different crude qualities
To improve refinery equipment reliability, manage uncertainty and effectively minimize risks, refiners are looking for improved and frequent system monitoring, including predictive analytics that enable the anticipation of potential impacts while serving up options in how best to eradicate potential problems.
New technologies such as smart sensors are enhancing the safety and functionality of all processes, requiring advanced data analytics and continuous fine-tuning and impact to unit reliability, which will ultimately mitigate potential inefficiencies and higher operational costs, waste and variation.
Process control technologies include simulation options that allow for testing of crude oil blends to determine whether or not potential equipment downtime will ensue. Predictive analytics equip companies to forecast demand with greater accuracy and precision, while seamlessly communicating data throughout the supply chain, automate balanced supplies, fuel inventories, and production levels
What we do
As specialists in procurement, logistics and operations, we have the track record of accelerating measurable improvement across the buy-make-move-fulfill supply chain to deliver the greatest value to customers at the lowest cost to business.
How we do it
Our hands-on implementation experts work with Oil & Gas executives and their teams to rapidly move up the Total Value Optimization (TVO) Maturity Curve™ by:
Identifying and quantifying the real opportunity Identifying current constraints and barriers
Creating a robust and measurable business case with a clear ROI
Developing a pragmatic roadmap for accelerated results
Working closely with clients to Implement and track measurable improvements
Infusing best practice and delivering a quantifiable ROI
Training, mentoring and enhancing internal teams for sustainable performance
Why we are different
Our integrated approach is different in 6 key ways:
---
Crude-by-rail: Achieving better collaboration with the railroads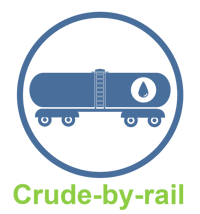 According to US government data, shipments of crude by rail averaged 130,000 barrels per day (bpd) in 2017. With Canadian crude shipments to the United States by rail, this could reach 350,000 (bpd) by year end and average some 400,000 bpd in 2020. This increase in shipments is mostly dependent on establishing a spot market for delivery. Companies such as Canadian National Railway, have insisted on long-term crude-by-rail commitments before providing additional rail capacity.
Each segment in the oil and gas value chain will need to seek alternative strategic approaches to increasing capacity with minimal disruptions, lower costs, easier and more direct route utilization, intermodal optimization, and increased optionality. > Learn More
---
Want to find out more?
---
Clients Speak
Maine Pointe's unique approach to a savings guarantee for clients, combined with their deep knowledge and practical work experience in supply chain management, sets them apart from others. Through an intense evaluation of existing practices and their focus on low capital investment solutions, sustainable process improvements are developed and implemented that yield real and measurable benefits for the long term."

Director, Logistics and Distribution, Irving Oil
---
I am happy to report that not only were our joint savings targets exceeded, but that our supplier relationships and transparency have also improved. The practical and hands-on approach of the Maine Pointe team has laid a solid foundation for on-going improvements."

Bill Grainger Director of Transportation, Suncor Energy