Maine Pointe in

East and South Asia
The economy of East and South Asia (ESA) has continued to fire on all cylinders this year as low inflation and strong global growth fuel demand for Asian goods. A preliminary estimate shows that ESA countries expanded an aggregated 6.3% annually in the first quarter of this year.
However, despite its enviable growth, the region faces a number of threats. Of particular concern is the increasingly fragile trade relationship between the US and China. This uncertainty threatens to erode investors' confidence in the region and add downward pressure to regional growth. Other challenges include an aging population, geopolitical risks and, for economies heavily reliant on open trade, a potential global shift towards inward-looking policies.
Companies operating in the region and those dependent on it for goods and raw materials, need to be prepared for robust growth in the short term while taking sensible measures to protect their supply chain in the longer term.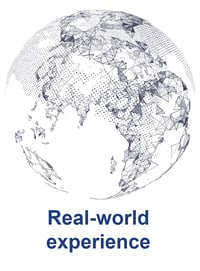 We can

help
Having worked in twelve countries across East and South Asia, Maine Pointe's industry and practice specialists have a wealth of experience helping clients across the region and beyond achieve accelerated, sustainable improvements in EBITDA, cash and growth across their procurement, logistics and operations functions. We have local experts in countries across the region with the cultural knowledge and industry expertise to break through functional silos and optimize the business through Total Value Optimization™.
What Maine Pointe

achieves
Our engagement successes in East and South Asia include:
---
Clients

speak
I am happy to report that our savings targets were exceeded. We were supported by a strong Maine Pointe team - from the initial analysis to the end of the project - and their practical and linear approach to the project has laid a solid foundation for future improvements within the organization. Accordingly, I would not hesitate to recommend Maine Pointe." CEO Global Manufacturing
Maine Pointe took us to a place we didn't know we could get to. Within the turn of a season, they gave us what would have taken 3 to 4 years to achieve." CEO, Global Food Processor
I would like to commend you for doing an outstanding job on our recent engagement to implement a Management Operating System and fast track a strategic procurement initiative to drive operational improvement in our business. The objectives were to drive double digit percentage improvement in our EBITDA by achieving 10% savings in our manufacturing costs and more than 5% savings on our raw material spend. I am pleased to say we met those objectives on time and within budget. Maine Pointe's Total Value Optimization (TVO) and procedural approach, coupled with an accelerated schedule, were the key reasons behind our decision to move ahead with the engagement." CEO Global Specialty Chemicals