World economies feel the

impact of the global pandemic
The coronavirus pandemic cause a huge shock to European economies with the Euro area experiencing a contraction of around 7.8%. The Organization for Economic Co-operation and Development suggest the global economy will rise above pre-pandemic levels by quarter three but that the recovery will be patchy. The The US is expected to recover fastest thanks to President Joe Biden's stimulus plan will. Growth in Europe, where significant risks and uncertainties remain, is expected to be slower. Restrictions on movement as EU member states tighten measures, will continue to cause blockages in supply chains and operations. There is cautious optimism as vaccinations are rolled out but progress has been slower than expected.
As risk and uncertainty continue. Do you have visibility and control of your digital supply chain and operations?
We can
help
Having worked in fifteen countries across Europe, Maine Pointe's industry and practice specialists and data analysts have a wealth of onsite and offsite global delivery experience in the region. Our three-step stabilize-recover-rebalance roadmap helps executives reduce risk and achieve accelerated, sustainable improvements in EBITDA, cash and growth, while reducing risk across the end-to-end digital supply chain and operations. We have local experts in countries across the region with the cultural knowledge and industry expertise to break through functional silos and optimise businesses through Total Value Optimization (TVO)™.
What Maine Pointe achieves
Our engagement successes in Europe include:
We helped a UK-based nanotechnology company, we helped our client enhance procurement competitiveness and drive double-digit savings in a high-tech, low-volume production environment. > Read more



Working across four global divisions of a multibillion-euro conglomerate (EU, UK, US and Asia), we helped rapidly improve supply chain and operations capabilities and delivered €107M in EBITDA improvements across the organisation. > Read more

Our operations, procurement and logistics experts helped a global high-tech manufacturer (headquartered in Germany) transform the performance of its business and return to profitable growth. As a result, our client improved EBITDA by 47% and increased throughput by 50% across three business units. > Read more

We helped a major food processor based in the UK align procurement and stakeholders behind a common set of goals, improve communication and break through functional silos. This resulted in significant bottom-line cost reductions and created the conditions for growth. > Read more

---

Clients speak

The CEO, CFO, CHRO and a divisional MD of Oxford Instruments, a leading provider of high technology products and services to the world's foremost industrial companies and scientific research communities, talk about how their organisation achieved measurable results, fast. They discuss how Maine Pointe helped accelerate measurable, sustainable improvements in operations excellence and procurement for strategic change.

The CEO of Voyant Beauty discusses how his organisation took the first steps on its TVO digital supply chain transformation journey.


Our experience with Maine Pointe was a very positive one. Apart from the significant financial benefit accruing from our procurement and supply chain engagement, we will continue to benefit from the up-skilling of staff, process innovation and change mentality the engagement delivered. Maine Pointe are professional partners, focused on delivery and making the results stick. I have no hesitation in recommending Maine Pointe to others." CEO Food Processing (UK)
Working with our leadership, middle-management and on-the-ground teams, Maine Pointe helped us deliver significant improvements in operational excellence and implement strategic procurement across our UK businesses. They brought the operating practices and experience we needed to achieve measurable results for our business and our people." CEO Nanotechnology (UK)
Maine Pointe's well-educated professionals with their significant, practical, hands-on experience brought a unique set of competencies to the partnership. Specifically, their capabilities and deep expertise in operations excellence and logistics provided us with significant ROI across several of our divisions. They met or exceeded our expectations." EVP, Global Operations, Global Conglomerate (UK, Europe, Asia, US)
Through our project with Maine Pointe, we connected decades of internal process knowledge with a contemporary 'tool kit' that delivered tremendous financial results. We took a very good business and made it a much better one. Our staff acquired new skills that have continued to guide our journey of improvement. The change process wasn't easy, but it was worth it, and we have regularly engaged Maine Pointe as trusted, knowledgeable advisors long after the project concluded." President, Specialty Chemicals (UK)
---
Flexible onsite/offsite delivery model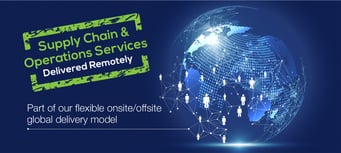 Our implementation experts have the onsite/offsite service delivery capabilities and industry expertise to help accelerate your supply chain and operations initiatives immediately. In addition, as a member of the SGS group, our clients have access to the world's leading independent inspection, verification, testing and certification company.
---
Get in touch
Have a particular business challenge you would like to discuss with our team in Europe?