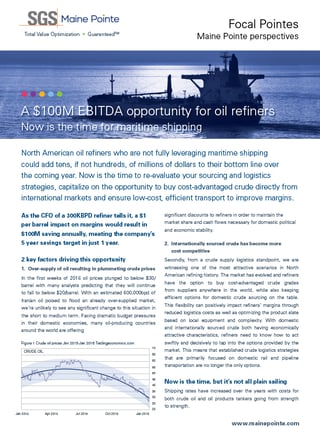 $100m E
BITDA Opportunity For Oil Refiners
This Maine Pointe Perspective paper is for North American oil refinery executives includes:
How optimizing crude supply logistics can improve margins

2 key factors that are driving this opportunity

4 questions refinery executives should be asking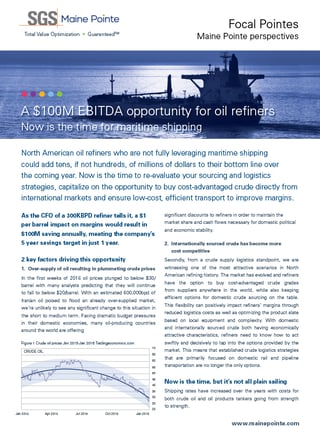 Maximize margins by improving sourcing

Examining logistics strategies

Evaluating in house resourcing

North American oil refiners who are not fully leveraging maritime shipping could add tens, if not hundreds, of millions of dollars to their bottom line over the coming year. Now is the time to re-evaluate your sourcing and logistics strategies, capitalize on the opportunity to buy cost-advantaged crude directly from international markets and ensure low-cost, efficient transport to improve margins.
As the CFO of a 300KBPD refiner tells it, a $1 per barrel impact on margins would result in $100M saving annually, meeting the company's 5 year savings target in just 1 year.
In the current environment it's survival of the quickest. The most successful businesses are the ones that are asking themselves the right questions and know where to go to find the answers fast.
eBook: $100m EBITDA Opportunity For Oil Refiners