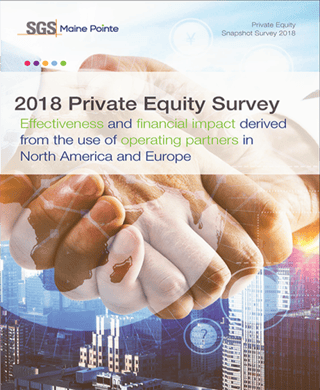 2018 Private Equity Snapshot Survey Results
The survey was carried out over a 2-month period in April and May, 2018 and consisted of an online questionnaire supported by face-to-face interviews with 50 operating partners in N America and Europe.
While the use of operating resources is relatively high and continues to grow, the measurable effectiveness of these resources is unclear

Most PE firms surveyed believe direct initiatives within their teams are capable of driving a higher level of cost reduction, cash flow and/or growth in portfolio companies than is currently achieved

Lack of skilled resources available in house, time constraints and difficulties getting CEO/management cooperation are cited as among the chief barriers preventing PE firms from driving more value in cost reduction and cash

92% view individu

al portfolio company performance as the key performance metric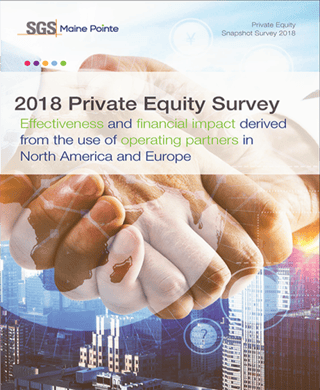 Examining weaknesses and areas for immediate improvement


Data driven results to drive value

Increased reliance on operational value creation in recent years, especially in fund vintages since 2011, has required PE firms to diversify from their traditional 'financial engineering' role and either develop the in-house capabilities or look outside of their own organization for the operational expertise they require to achieve rapid, measurable results.
In 2015, Maine Pointe conducted a snapshot survey, on the status and trends in the use of the operating partner concept in the Americas and Europe, to ascertain the perspectives of 50 managing partners/operating partners and senior directors on the use of the operating partner concept. From that survey, we learned that approximately half of all middle-market and larger PE firms utilize operating resources internally, and most PE firms are working with various third parties to achieve improved operating results.
Now this begs the question, how effective are these operating resources in creating incremental value? This year, we dove into this theme with a new survey aimed at taking PE's pulse regarding current methods of utilizing operating resources and the barriers preventing PE firms from driving more value in cost reduction and cash flow from portfolio companies. The survey specifically focused on the role of operating partners, asking how and when they are involved in the process and what financial impact their involvement has on value creation.
eBook: 2018 Private Equity Snapshot Survey Results