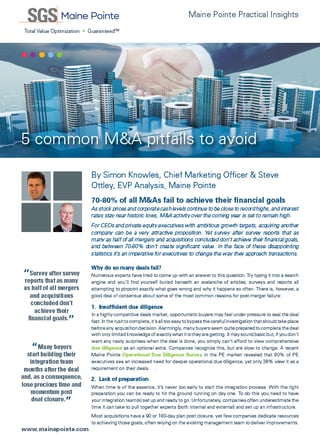 5 Common M&A Pitfalls to Avoid
This Maine Pointe insights paper is for CEOs and PE executives and discusses:
Why 70-80% of all M&As fail to achieve their financial goals

How to avoid the most common M&A pitfalls

How to beat the odds and realize exceptional growth opportunities relatively fast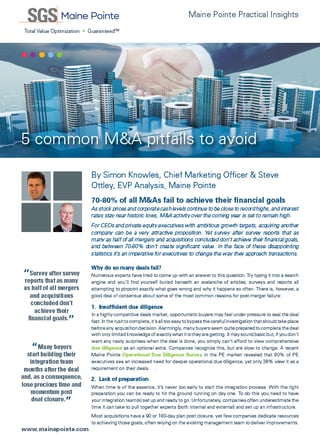 Examine ways to ensure growth and maximize profits

Utilizing data analytics to generate results

Align leadership and focus on every aspect of new acquisitions

As stock prices and corporate cash levels continue to be close to record highs, and interest rates stay near historic lows, M&A activity over the coming year is set to remain high.
For CEOs and private equity executives with ambitious growth targets, acquiring another company can be a very attractive proposition. Yet survey after survey reports that as many as half of all mergers and acquisitions concluded don't achieve their financial goals, and between 70-80% don't create significant value. In the face of these disappointing statistics it's an imperative for executives to change the way they approach transactions.
eBook: 5 Common M&A Pitfalls to Avoid