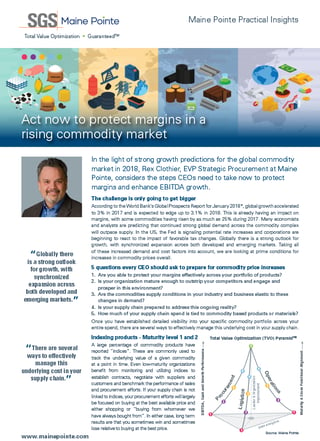 Act Now to Protect Margins in a Rising Commodity Market
The steps CEOs need to take now to protect margins and enhance EBITDA growth in the light of commodity price increases
This Maine Pointe insights paper is for CEOs and PE executives and discusses:
5 questions every CEO should ask to prepare for commodity price increases

Ways to effectively manage this underlying cost in your supply chain

How to start your journey towards a high-maturity, demand-driven supply chain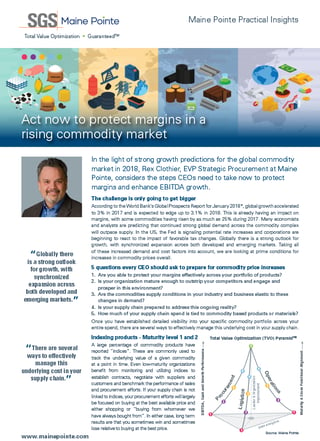 Protect your margins effectively across your portfolio

Creating the demand-driven supply chain

Protect margins and enhance EBITDA growth

In the light of strong growth predictions for the global commodity market in 2018, Rex Clothier, EVP Strategic Procurement at Maine Pointe, considers the steps CEOs need to take now to protect margins and enhance EBITDA growth.
According to the World Bank's Global Prospects Report for January 2018*, global growth accelerated to 3% in 2017 and is expected to edge up to 3.1% in 2018. This is already having an impact on margins, with some commodities having risen by as much as 25% during 2017. Many economists and analysts are predicting that continued strong global demand across the commodity complex will outpace supply. In the US, the Fed is signaling potential rate increases and corporations are beginning to react to the impact of favorable tax changes. Globally there is a strong outlook for growth, with synchronized expansion across both developed and emerging markets. Taking all of these increased demand and cost factors into account, we are looking at prime conditions for increases in commodity prices overall.
eBook: Act Now to Protect Margins in a Rising Commodity Market