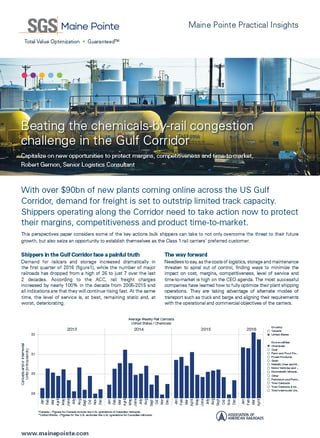 Beating The Chemicals-By-Rail Congestion Challenge In The Gulf Corridor
This Maine Pointe Perspective paper is for shippers operating along the US Gulf Corridor and includes:
3 ways chemicals executives can capitalize on new opportunities to protect their margins, competitiveness and improve time-to-market

How you can overcome the captive challenge with the Class 1 railroads and become a preferred customer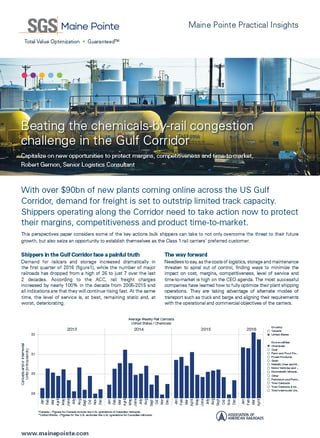 Find ways to make your logistics and supply chain less dependent on rail

Improve efficiency and effectiveness in your own operations

Create a win-win relationship with the Class 1 rail carriers

Demand for railcars and storage increased dramatically in the first quarter of 2016 (figure1), while the number of major railroads has dropped from a high of 26 to just 7 over the last 2 decades. According to the ACC, rail freight charges increased by nearly 100% in the decade from 2005-2015 and all indications are that they will continue rising fast. At the same time, the level of service is, at best, remaining static and, at worst, deteriorating.
Needless to say, as the costs of logistics, storage and maintenance threaten to spiral out of control, finding ways to minimize the impact on cost, margins, competitiveness, level of service and time-to-market is high on the CEO agenda. The most successful companies have learned how to fully optimize their plant shipping operations. They are taking advantage of alternate modes of transport such as truck and barge and aligning their requirements with the operational and commercial objectives of the carriers.
eBook: Beating The Chemicals-By-Rail Congestion Challenge In The Gulf Corridor