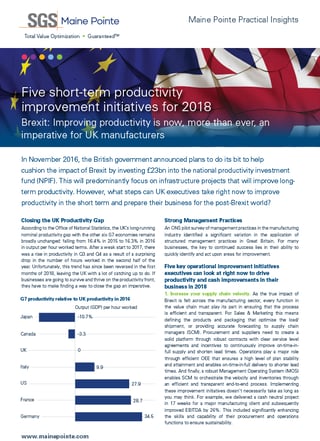 Brexit: Five
Short-term

Productivity Improvement Initiatives For 2018

This Maine Pointe perspective paper includes:



How UK productivity stacks up against the rest of the G7 advanced economies
The steps UK executives can take right now to improve productivity in the short term and prepare for the post-Brexit world
5 key operational improvement initiatives to drive productivity and cash improvements in your business in 2018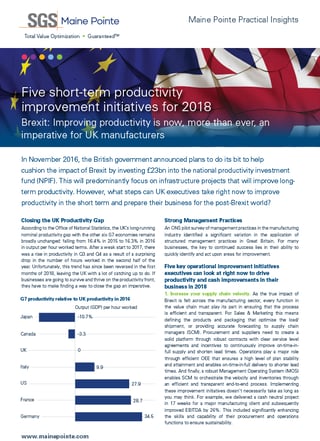 Increase you supply chain velocity

Enhance your strategic procurement maturity

Develop an optimized portfolio

In November 2016, the British government announced plans to do its bit to help cushion the impact of Brexit by investing £23bn into the national productivity investment fund (NPIF). This will predominantly focus on infrastructure projects that will improve long term productivity. However, what steps can UK executives take right now to improve productivity in the short term and prepare their business for the post-Brexit world?
According to the Office of National Statistics, the UK's long-running nominal productivity gap with the other six G7 economies remains broadly unchanged: falling from 16.4% in 2015 to 16.3% in 2016 in output per hour worked terms. After a weak start to 2017, there was a rise in productivity in Q3 and Q4 as a result of a surprising drop in the number of hours worked in the second half of the year. Unfortunately, this trend has since been reversed in the first months of 2018, leaving the UK with a lot of catching up to do. If businesses are going to survive and thrive on the productivity front, they have to make finding a way to close the gap an imperative.
eBook: Five Short-term Productivity Improvement Initiatives For 2018