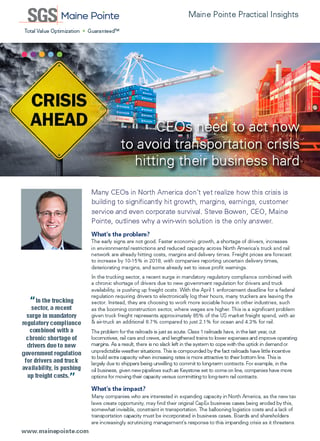 CEOs Need to Act Now to Avoid Transportation Crisis Hitting Their Business Hard
Many CEOs in North America don't yet realize how this crisis is building to significantly hit growth, margins, earnings, customer service and even corporate survival. Steve Bowen, CEO, Maine Pointe, outlines why a win-win solution is the only answer.
This Maine Pointe insights paper for CEOs and PE executives includes:
Key factors that are contributing to the current crisis in the transportation sector

Why better end-to-end collaboration can create a win-win situation for carriers and shippers

Some creative and proactive solutions CEOs can deploy to get ahead of the game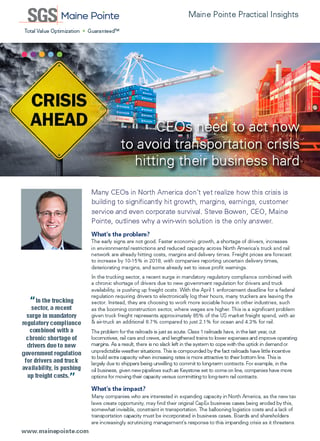 Transportation constraints

Optimize supply chain and operations

Chronic shortage of drivers due to new government regulations

The early signs are not good. Faster economic growth, a shortage of drivers, increases in environmental restrictions and reduced capacity across North America's truck and rail network are already hitting costs, margins and delivery times. Freight prices are forecast to increase by 10-15% in 2018, with companies reporting uncertain delivery times, deteriorating margins, and some already set to issue profit warnings.
In the trucking sector, a recent surge in mandatory regulatory compliance combined with a chronic shortage of drivers due to new government regulation for drivers and truck availability, is pushing up freight costs. With the April 1 enforcement deadline for a federal regulation requiring drivers to electronically log their hours, many truckers are leaving the sector. Instead, they are choosing to work more sociable hours in other industries, such as the booming construction sector, where wages are higher. This is a significant problem given truck freight represents approximately 85% of the US market freight spend, with air & air-truck an additional 8.7% compared to just 2.1% for ocean and 4.3% for rail.
The problem for the railroads is just as acute. Class 1 railroads have, in the last year, cut locomotives, rail cars and crews, and lengthened trains to lower expenses and improve operating margins. As a result, there is no slack left in the system to cope with the uptick in demand or unpredictable weather situations. This is compounded by the fact railroads have little incentive to build extra capacity when increasing rates is more attractive to their bottom line. This is largely due to shippers being unwilling to commit to long-term contracts. For example, in the oil business, given new pipelines such as Keystone set to come on line, companies have more options for moving their capacity versus committing to long-term rail contracts.
eBook: CEOs Need to Act Now to Avoid Transportation Crisis Hitting Their Business Hard