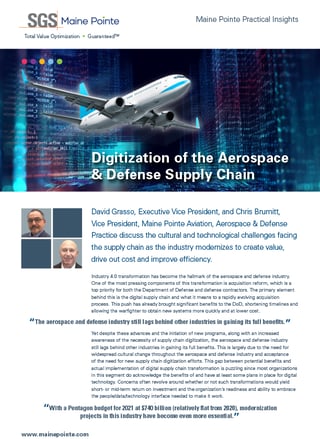 Digitization of the aerospace and defense supply chain
David Grasso, Executive Vice President, and Chris Brumitt, Vice President, Maine Pointe Aviation, Aerospace & Defense Practice discuss the cultural and technological challenges facing the supply chain as the industry modernizes to create value, drive out cost and improve efficiency.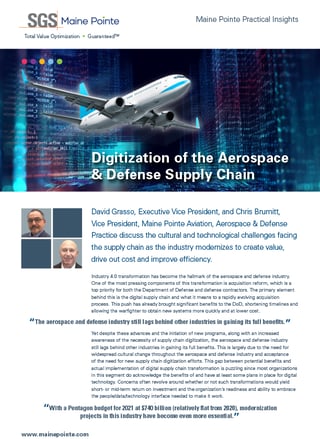 The Industry 4.0 transformation

Why modernization projects in
Aerospace & Defense have become even more essential

Why the next step in defense's acquisition reform must be digitization

Industry 4.0 transformation has become the hallmark of the aerospace and defense industry. One of the most pressing components of this transformation is acquisition reform, which is a top priority for both the Department of Defense and defense contractors. The primary element behind this is the digital supply chain and what it means to a rapidly evolving acquisition process. This push has already brought significant benefits to the DoD, shortening timelines and allowing the warfighter to obtain new systems more quickly and at lower cost.

Yet despite these advances and the initiation of new programs, along with an increased awareness of the necessity of supply chain digitization, the aerospace and defense industry still lags behind other industries in gaining its full benefits. This is largely due to the need for widespread cultural change throughout the aerospace and defense industry and acceptance of the need for new supply chain digitization efforts. This gap between potential benefits and actual implementation of digital supply chain transformation is puzzling since most organizations in this segment do acknowledge the benefits of and have at least some plans in place for digital technology. Concerns often revolve around whether or not such transformations would yield short- or mid-term return on investment and the organization's readiness and ability to embrace the people/data/technology interface needed to make it work.

With a Pentagon budget for 2021 at $740 billion (relatively flat from 2020), modernization projects in this industry have become even more essential. It is possible to get maximum benefit from existing initiatives such as optimizing supply chain and sustainment to keep shortages to a minimum and building out new capabilities without a corresponding increase in budget. However, to achieve this digitization efforts must be in place to create value, drive out cost and improve efficiency.
eBook: Digitization of the aerospace and defense supply chain