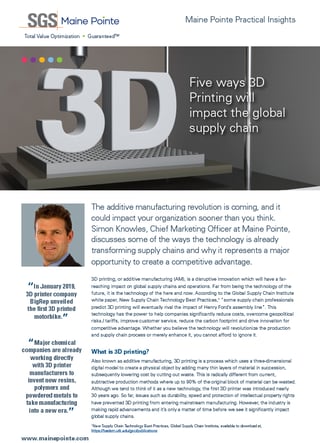 Five ways 3D printing will impact the global supply chain
The additive manufacturing revolution is coming, and it could impact your organization sooner than you think. Simon Knowles, Chief Marketing Officer at Maine Pointe, discusses some of the ways the technology is already transforming supply chains and why it represents a major opportunity to create a competitive advantage.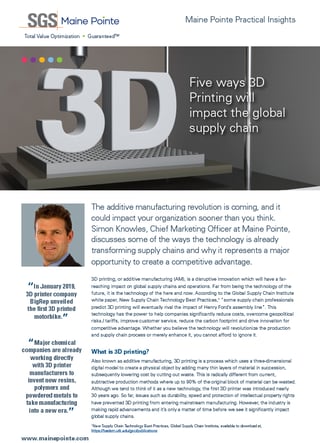 Ways 3D printing will have a massive impact on the supply chain and drive competitive advantage.

Shaping the future of your supply chain and operations

3D printing, or additive manufacturing (AM), is a disruptive innovation which will have a far-reaching impact on global supply chains and operations. Far from being the technology of the future, it is the technology of the here and now. According to the Global Supply Chain Institute white paper, New Supply Chain Technology Best Practices, "some supply chain professionals predict 3D printing will eventually rival the impact of Henry Ford's assembly line".
This technology has the power to help companies significantly reduce costs, overcome geopolitical risks / tariffs, improve customer service, reduce the carbon footprint and drive innovation for competitive advantage. Whether you believe the technology will revolutionize the production and supply chain process or merely enhance it, you cannot afford to ignore it.
eBook: Five ways 3D printing will impact the global supply chain