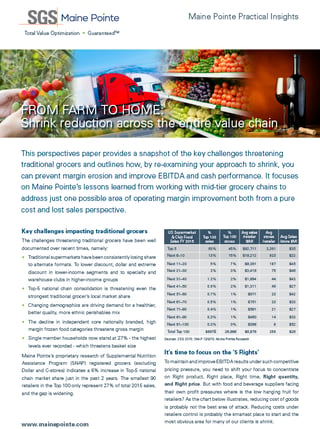 From Farm to Home
This Maine Pointe perspective paper is for executives in the US mid-tier grocery sector and includes:
The key challenges impacting traditional grocers

How to manage your business in a different way

Our approach to shrink - real-world insights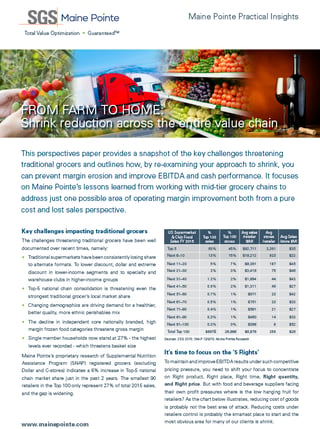 Evaluate your business from a new perspective

Strategies to combat shrink

Improve EBITDA and cash performance

This perspectives paper provides a snapshot of the key challenges threatening traditional grocers and outlines how, by re-examining your approach to shrink, you can prevent margin erosion and improve EBITDA and cash performance. It focuses on Maine Pointe's lessons learned from working with mid-tier grocery chains to address just one possible area of operating margin improvement both from a pure cost and lost sales perspective.
To maintain and improve EBITDA results under such competitive pricing pressure, you need to shift your focus to concentrate on Right product, Right place, Right time, Right quantity, and Right price. But with food and beverage suppliers facing their own profit pressures where is the low hanging fruit for retailers? As the chart below illustrates, reducing cost of goods is probably not the best area of attack. Reducing costs under retailers control is probably the smartest place to start and the most obvious area for many of our clients is shrink.