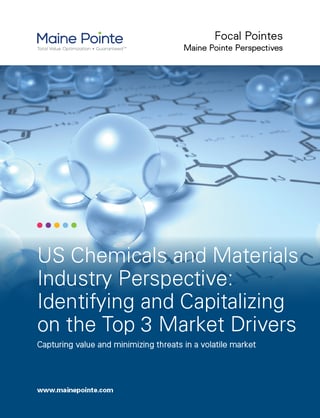 Opportunities and Challenges in the US Chemicals & Materials Industry
This Maine Pointe Perspective paper for US Chemical and Materials executives includes:
Our 2015-2016 industry analysis

3 key drivers that are impacting the industry today

How to refocus your strategy to gain a competitive advantage

4 opportunities to capture value you can capitalize on now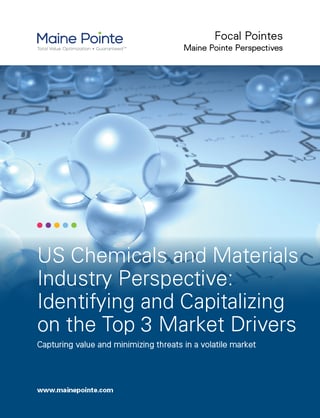 Operational Excellence driving superior customer service

Materials diversification and management including increased optionality

Logistics, distribution and warehouse cost optimization

This Maine Pointe perspectives paper focuses on the key challenges and opportunities for the industry during the latter part of 2015 and as we move into 2016. It outlines four opportunities industry leaders can capitalize on now.
The severe volatility that the chemicals industry is currently experiencing presents a fresh set of opportunities and challenges for senior executives. The industry has become increasingly unpredictable from a purchasing and supply chain management standpoint at the exact time when top–line organic growth is proving ever more elusive. If they are to succeed in this shifting landscape, chemicals executives need to re-focus their strategic thinking. This means abandoning outdated business models and developing the organizational agility to prepare for future shocks and take advantage of opportunities to capture value and minimize threats.
Some senior executives have chosen to "watch and wait" rather than make these key strategic decisions. By doing so, they run the risk of being left by the wayside as their competitors seize the opportunity to adjust their business model and gain the competitive edge.
eBook: Opportunities and Challenges in the US Chemicals & Materials Industry