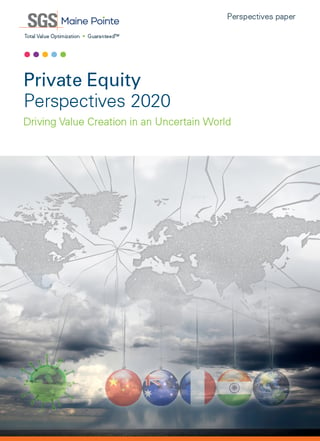 Private Equity Perspectives Paper 2020
This Maine Pointe Perspectives paper is recommended reading for PE executives who are actively seeking new methods of driving growth, achieving operational effectiveness and efficiency, and reducing risk in their portfolio companies.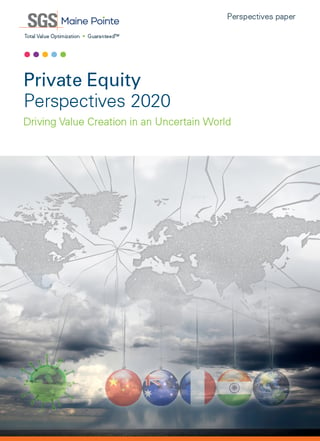 Private equity market dynamics across North America, Europe and Asia

The timing of supply chain and operational improvements across the investment lifecycle

Human capital is the most important asset – leader and organization improvement

The acquisitions market remains highly competitive, with a record level of unspent private equity capital (according to Bloomberg Economics). With private equity firms poised and ready to pounce we are seeing PE ownership increasing and becoming more mainstream. However, the fact remains that over 60% of acquisitions are still made by corporations.
In addition to robust buy-side activity, conditions outside of portfolio company control have increased the volatility of expected returns. A 2020 Global Private Equity Outlook Survey conducted by MergerMarket concluded that geopolitical risk factors such as China's economic slowdown, USChina trade wars, the coming US presidential election and Brexit are among the most significant challenges facing private equity today. In addition, economic growth is stuttering in many parts of the globe.
Since that report was written the spread of coronavirus has intensified. Annual global GDP growth is projected to drop to 2.4% in 2020 as a whole, from an already weak 2.9% in 2019, with growth possibly even being negative in the first quarter of 2020 according to the OECD's interim economic assessment (March 2). As a result, businesses will inevitably need to improve competitiveness through cost-out initiatives, and support growth via acquisition and consolidation.
These efforts will be complicated by the fact that many companies still operate in functional silos which hinder cost, synergy, growth and customer service opportunities. In this climate, the only winners will be those that drive measurable value by improving their acquisition, carve-out, integration and performance improvement approaches.
eBook: Private Equity Perspectives Paper 2020