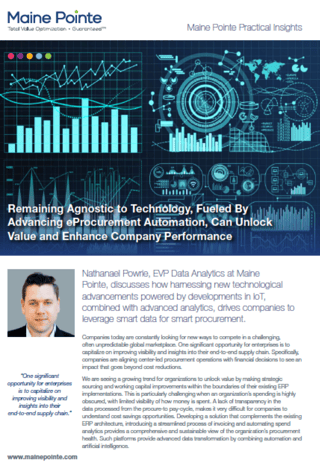 Remaining agnostic to technology fueled by advanced eProcurement automation can unlock value and enhance company performance
Nathanael Powrie, EVP Data Analytics, discusses how harnessing new technological advancements powered by developments in IoT, combined with advanced analytics, drives companies to leverage smart data for smart procurement.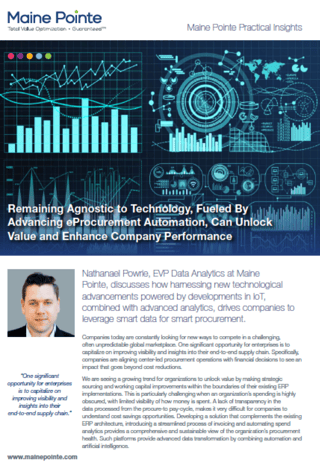 How Industry 4.0 is transforming procurement

A growing trend for organizations to unlock value

One of the biggest advancements, which is foundational to evolve into digitalization

Companies today are constantly looking for new ways to compete in a challenging, often unpredictable global marketplace. One significant opportunity for enterprises is to capitalize on improving visibility and insights into their end-to-end supply chain. Specifically, companies are aligning center-led procurement operations with financial decisions to see an impact that goes beyond cost reductions.
We are seeing a growing trend for organizations to unlock value by making strategic sourcing and working capital improvements within the boundaries of their existing ERP implementations. This is particularly challenging when an organization's spending is highly obscured, with limited visibility of how money is spent. A lack of transparency in the data processed from the procure-to pay-cycle, makes it very difficult for companies to understand cost savings opportunities. Developing a solution that complements the existing ERP architecture, introducing a streamlined process of invoicing and automating spend analytics provides a comprehensive and sustainable view of the organization's procurement health. Such platforms provide advanced data transformation by combining automation and artificial intelligence.
eBook: Remaining agnostic to technology fueled by advanced eProcurement automation can unlock value and enhance company performance