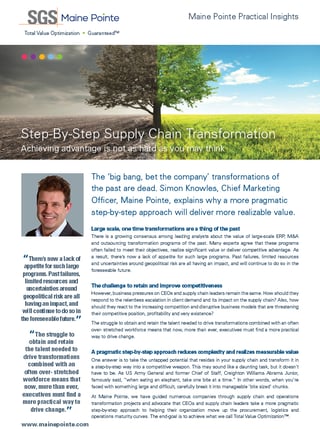 Step-By-Step Supply Chain Transformation
Step-By-Step Supply Chain Transformation
This Maine Pointe insights paper is for CEOs and PE executives and discusses:
Why large scale transformation projects are a thing of the past

Why more and more senior executives are looking for practical and manageable ways to drive change

How a step-by-step approach to supply chain transformation drives measurable benefits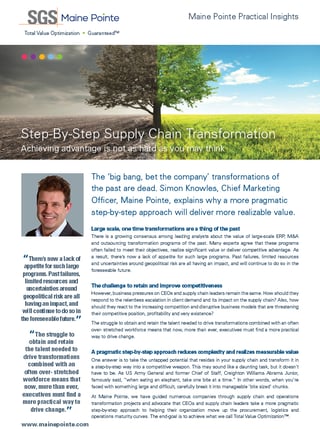 The challenge to retain and improve competitiveness

Analyze across all functions to identify barriers and opportunities to maximize value

A pace that works for your business

There is a growing consensus among leading analysts about the value of large-scale ERP, M&A and outsourcing transformation programs of the past. Many experts agree that these programs often failed to meet their objectives, realize significant value or deliver competitive advantage. As a result, there's now a lack of appetite for such large programs. Past failures, limited resources and uncertainties around geopolitical risk are all having an impact, and will continue to do so in the foreseeable future.
However, business pressures on CEOs and supply chain leaders remain the same. How should they respond to the relentless escalation in client demand and its impact on the supply chain? Also, how should they react to the increasing competition and disruptive business models that are threatening their competitive position, profitability and very existence?
The struggle to obtain and retain the talent needed to drive transformations combined with an often over- stretched workforce means that now, more than ever, executives must find a more practical way to drive change.
eBook: Step-By-Step Supply Chain Transformation