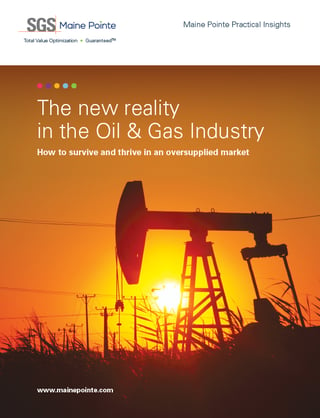 The New Reality In The Oil & Gas Industry
This Maine Pointe Perspectives Paper is for executives in the US Oil & Gas industry includes:
Oil & Gas industry analysis

The impact of Iran's return to the global market

Driving down costs and driving up profits

4 operational improvement areas many oil company need to consider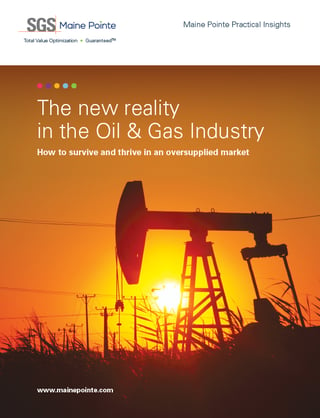 Get more out of suppliers and service providers

Major savings can be made in your Crude and Refined product logistics

More efficient capital projects and plant turnaround

Iran's return to the oil market is going to have a significant impact on the Oil & Gas industry for the later part of 2015 and as we head into 2016.The headline is this: prices are low and they're going to stay low. For industry leaders, many of who have already begun implementing measures to drive inefficiencies out of their businesses, watching and waiting is simply not an option. The message to them is this; it's not too late to shore up your strategic future, but you need to act now. There's no doubt that oversupply and lower prices represent a real challenge to the industry, but that doesn't mean the future is all gloom. It just means that producers and refiners need to adopt strategies to prepare for the new reality.
Iran was once OPEC's largest oil producer and has the world's fourth largest proven crude oil and the second biggest natural gas reserves. As a result of the nuclear deal with the west, new flows of Iranian fuel could hit an already over-supplied market in a matter of months. A Reuters poll of 25 oil analysts from leading banks and brokerages forecast that Iran would be able to raise oil output by between 250,000 and 500,000 bpd by the end of 2015.
Over-production will continue to cause a significant global supply glut, and that in turn means prices will stay low. So, how do you survive and thrive in a market that is oversupplied? The answer is simple; the only way to drive up profits is to drive down costs and that means looking deep into your value chain to identify where savings can be made.
eBook: The New Reality In The Oil & Gas Industry