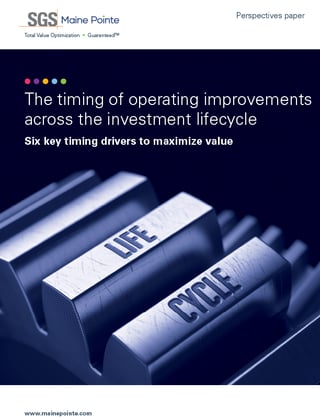 The Timing of Operating Improvements Across the PE Investment Lifecycle
The timing of improvements across the Private Equity investment lifecycle
This Maine Pointe perspective paper is for PE Executives and Portfolio Company CEOs includes:
How and when PE firms can capitalize on operational improvement initiatives

Real-world insights into externally driven operating improvements

Success story examples across the investment cycle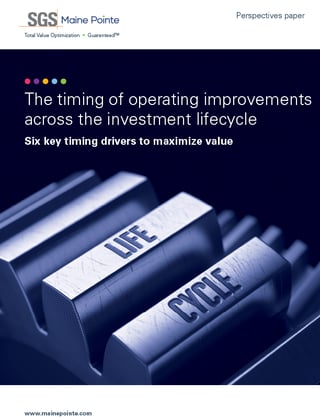 Overseeing acquisitions and add-on growth


This paper discusses how the contribution of operational improvements has evolved over time. It outlines the new realities of how and when private equity firms can capitalize on operational improvement initiatives that drive measurable value across different stages in the investment lifecycle.
Over the past ten years, private equity firms have increasingly recognized the contribution of operational improvements to the overall value creation efforts at underlying portfolio companies. As a result, we have witnessed a dramatic evolution in the operating focus of private equity firms and the resources that they are committing to this initiative and investment. While many firms are still maturing their investment models to support this new reality, others have expanded their capabilities both in how they drive operational improvements and, more interestingly, when they are most effectively able to pull these value levers.
As the private equity industry has matured, the sheer number of firms competing for a finite universe of investment opportunities has resulted in a new dynamic emerging. Firms need to employ more tools than financial engineering, thereby increasing the importance of operational enhancements.
eBook: The Timing of Operating Improvements Across The PE Investment Lifecycle