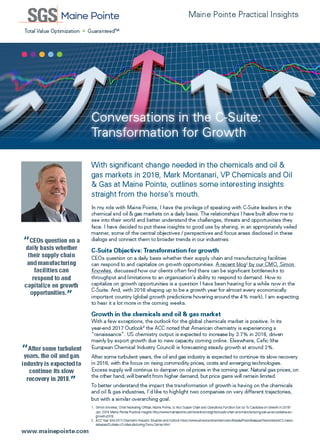 Conversations In The C-Suite: Transformation For Growth
This Maine Pointe insights paper is for CEOs and PE executives and discusses:
Growth predictions in the chemicals and oil & gas markets

The impact transformation of growth is already having in the marketplace

A step-by-step approach to driving measurable value across the end-to-end supply chain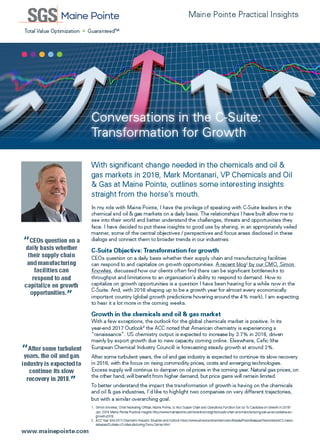 Examine business constraints and how to break free

Evaluate supplier relationships

Maintaining competitiveness in an ever changing business climate

CEOs question on a daily basis whether their supply chain and manufacturing facilities can respond to and capitalize on growth opportunities. A recent blog1 by our CMO, Simon Knowles, discussed how our clients often find there can be significant bottlenecks to throughput and limitations to an organization's ability to respond to demand. How to capitalize on growth opportunities is a question I have been hearing for a while now in the C-Suite. And, with 2018 shaping up to be a growth year for almost every economically important country (global growth predictions hovering around the 4% mark), I am expecting to hear it a lot more in the coming weeks.
With a few exceptions, the outlook for the global chemicals market is positive. In its year-end 2017 Outlook2 the ACC noted that American chemistry is experiencing a "renaissance". US chemistry output is expected to increase by 3.7% in 2018, driven mainly by export growth due to new capacity coming online. Elsewhere, Cefic (the European Chemical Industry Council) is forecasting steady growth at around 2%.
After some turbulent years, the oil and gas industry is expected to continue its slow recovery in 2018, with the focus on rising commodity prices, costs and emerging technologies. Excess supply will continue to dampen on oil prices in the coming year. Natural gas prices, on the other hand, will benefit from higher demand, but price gains will remain limited.
Transformation for Growth