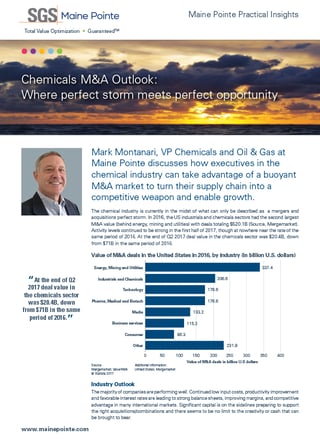 Chemicals M&A Outlook: Where Perfect Storm Meets Perfect Opportunity
This Maine Pointe insights paper for executives in the chemicals industry discusses:
How executives can take advantage of a buoyant M&A market

4 questions every chemicals executive should be asking

How to harness the "triple effect" of cash, cost and growth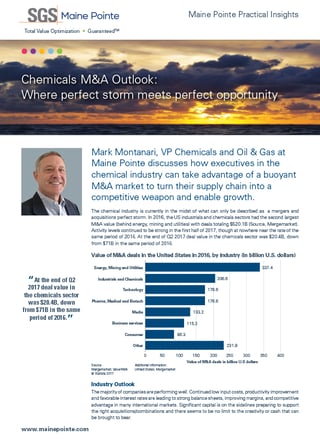 Turning your supply chain into a competitive weapon

Identify untapped value in your supply chain

Increase throughput and improve cycle times

The chemical industry is currently in the midst of what can only be described as a mergers and acquisitions perfect storm. In 2016, the US industrials and chemicals sectors had the second largest M&A value (behind energy, mining and utilities) with deals totaling $520.1B (Source, Mergemarket). Activity levels continued to be strong in the first half of 2017, though at nowhere near the rate of the same period of 2016. At the end of Q2 2017 deal value in the chemicals sector was $20.4B, down from $71B in the same period of 2016.
The majority of companies are performing well. Continued low input costs, productivity improvement and favorable interest rates are leading to strong balance sheets, improving margins, and competitive advantage in many international markets. Significant capital is on the sidelines preparing to support the right acquisitions/combinations and there seems to be no limit to the creativity or cash that can be brought to bear.
However, despite increased confidence in the economy, growth is fairly slow. This has driven a focus on inorganic sources of additional revenue, the search for greater scale, access to specific market segments and a desire to acquire innovation. This means the demand for deals is still strong with an abundance of investor money chasing relatively few assets.
Where Perfect Storm Meets Perfect Opportunity