Published in the 2019/2020 winter issue of Journal of Supply Chain Management, Logistics and Procurement
Rex Clothier, VP CPG delivers a detailed look at optimizing value through the supply chain, underscoring the importance of looking at the supply chain for improvements to EBITDA, cash release and growth.
REX CLOTHIER is Vice President, Consumer Packaged Goods, Maine Pointe, a global supply chain and operations consultancy. Rex has been part of the Maine Pointe team since 2012, most recently as the strategic procurement practice leader. His in-depth knowledge and industry expertise in global supply chain value streams has consistently provided meaningful value to clients. Rex's experience in international and domestic procurement and end-to end-supply chain includes advising companies ranging from smaller entrepreneurial firms to large, global, publicly traded companies.
Abstract
Optimising value is critical to the ability of an organisation to exist and grow, and the supply chain is critical to this success. Yet often the effectiveness of the supply chain is overlooked and opportunities for improvement to earnings before interest, tax, depreciation and amortisation (EBITDA), cash and growth remain hidden. Continuous maturing of the supply chain can transform it into a competitive weapon for driving continuous improvement in EBITDA, cash release and growth. This effort begins with understanding existing performance and managing the complexity of the many demands, and big data/analytics plays a major role in providing detailed insights. In addition, mature supply chains are marked by cross-functional team interaction and focused governance of ongoing performance; the supplier community must also be fully engaged and seen as a key asset that must be actively managed. Ultimately a higher level of maturity is vital to achieving sustainable improvements. Finding ways to accelerate advancement in maturity is one of the most powerful ways to transform the supply chain into a competitive weapon.
Keywords supply chain, value, maturity, analytics, cross-functional team, accelerated performance, accelerated results, EBITDA, cash, growth.
INTRODUCTION
Most organisations exist because they bring value to shareholders and the marketplace. The ability to optimise that value to the benefit of consumers, customers, or just the next node of the supply chain is critical for the health and viability of an organisation to exist and grow. Leaders focused on how to best optimise the total value of their organisation to the marketplace will always acknowledge the importance of supply chain as critical to success. Often, supply chain effectiveness within organisations becomes overlooked and the incredible potential for improvements in earnings before interest, tax, depreciation and amortisation (EBITDA), cash and growth can be left captive and hidden. In the world of accelerated competitiveness, lack of continuous maturing of supply chain within an organisation can result in suboptimal results at best, or worse, the potential downfall of the organisation's ability to sustain their value proposition. Focusing on accelerated maturing of an organisation's supply chain enables leaders to optimise their supply chain and make it a competitive weapon for driving continuous improvement in EBITDA, cash release and growth within their organisation.
A SUPPLY CHAIN ANALOGY — ROWING MATURITY
Competitive rowing — sometimes referred to as 'crew' in the US — can be recreational or competitive. In many rowing events you will see teams of competitors waiting for their race to be called, at which point each team has a time requirement to carry their boat to the water, load in, row to the waiting area then to the start line, then explode at full energy to power the boat to the finish line. If you watch the various rowing events, you can see various maturity levels of the teams racing: first year rowers, recreational rowers, newly formed teams, serious competitors and ultimately top performing teams. It is easy to see the maturity of the team by how well they pick up their boat in sync, how smoothly they enter the boat, how quickly they arrive at the waiting area and, of course, how quickly they perform their race. At the end of the day, all rowers can say with pride they 'performed their best', or 'gave it everything they had', but when you look at the results, for example, some racers may have completed the course in 5½ minutes and others took 10 or 12 minutes or more to cover the same distance. All teams rowed and times vary dramatically, but very few were able to get close to the 5½ minute time.
The difference is the maturity of the teams. Over time, individuals focus on the anatomy of their stroke, perfecting their breathing, reducing drag, getting faster equipment, improving their steering, coordinating their balance, improving their fitness and utilising countless other techniques, actions and tools to improve their times. Regardless of the result, every competitor and ever coach knows they have to work on many things to be able to improve their times to beat the competition. Supply chain maturity is very much the same; organisations' supply chain teams ultimately perform the required function in full. High­-performance teams, however, perform at a higher maturity because they have refined their capabilities, methodologies and tools to function at a more mature level. Functioning at a higher maturity produces better results for the organisation. Focused effort to continuously improve the methodology, disciplines and utilisation of tools will ultimately produce a high­-performance culture with each organisation's supply chain (see Figure 1).
'WHAT GETS MEASURED GETS MANAGED' — INTEGRATE DATA ANALYTICS INTO SUPPLY CHAIN MANAGEMENT
One of the key first steps in maturing a supply chain is to truly assess where an organisation's supply chain effectiveness and performance currently exists. Understanding the demand flow end to end and understanding how customers, internal stakeholders, suppliers, suppliers' suppliers, etc., manage the complexity of these demands is critical. Simply put, any variability at any stage of this continuum leads to waste (excess inventory, rushed deliveries, firefighting issues, sub­-optimal production efficiency, non-­value-­added margins, customer shortages, etc.). Like it or not, this waste is built (or will be built) into the cost structure of existing supply chains. Nobody 'absorbs' this cost in the long term, it becomes a reality of the cost of any organisation's end ­to ­end supply chain. The key to reducing this captive waste is visibility and measurement of the performance metrics. Timely data analytics to provide actionable insights and key performance indicators (KPIs) is key to creating visibility. Often, lack of reliable data, lack of focus on the correct data and lack of skills on what to do with the data add unnecessary complications for leaders striving to mature their supply chain. In today's world there are many cost­-effective data extraction and visualisation tools able to effectively provide detailed insights into the buy–make– move–fulfil supply chain that provide visibility to captive waste and performance metrics.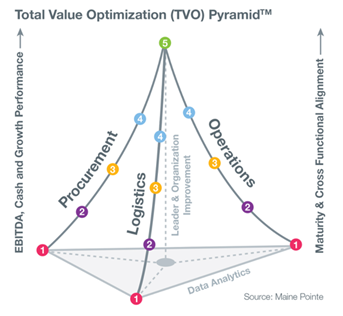 CASE STUDY: GAIN COMPETITIVE ADVANTAGE, SAVE US$48M AND RELEASE US$500M IN WORKING CAPITAL1
A global crop nutrients provider recognised the need to improve its competitiveness. Data analytics and logistics experts worked together to provide executives with actionable insights to help assess the cost benefit of 48 potential origin-­destination route options. This helped executives select the optimal location for their new US$50m North American distribution operation. Consequently, through the active management of the data insights, the company was able to get products to market five days faster than its competitors, increase market share 7 per cent year­-over­-year in four consecutive years, reduce the company's rail fleet by 50 per cent, achieve US$48m in freight rate and fleet savings and release over US$500m in inventory and working capital.
SUPPLY CHAIN MUST BE 'OWNED' BY THE ORGANISATION, NOT INDIVIDUALS
The most mature supply chains have significant cross-­functional team interaction and focused governance on the ongoing performance. Procurement, operations, logistics and data analytics leaders have a critical responsibility in an organisation because they are uniquely positioned to interact with the supply community to share what their organisation's needs are. They are also uniquely positioned to interact with internal stakeholders to share 'what is available in the marketplace'. When this function is performed by a few individuals, the scope of 'the possible' can be filtered unintentionally and value opportunity can be lost. It is critical that this role has linkage into both the internal and external stakeholders, and that clear executive governance is provided to make sure the organisation's available 'mind-share' is applied to the highest potential opportunities and threats.
This interaction is evident as many benchmark supply chains have moved to a more integrated, end ­to­ end supply chain design under a single corporate executive.2 This has been one of the most important steps in creating value, as these integrated structures create a common strategy and vision as well as a culture focused on total value. On the opposite side of the spectrum, uncoordinated interactions between suppliers and internal stakeholders can cause value opportunities to be sub-­optimised because the opportunity is not fully vetted on a timely basis. A common example would be if research and development (R&D) finds a new product offering, but procurement is not brought in early enough to effectively negotiate terms and commercials regarding the new product. It is equally detrimental if the procurement interaction slows down the vetting process because it is 'handed off' or stalled awaiting input. It is critical that an organisation takes a holistic approach to work with suppliers and internal stakeholders so that new product introduction and product life cycle management can be managed efficiently. Significant EBITDA can be lost not only during the introduction phase, but over the life of the introduced product.
Most organisations follow a typical business life cycle, with seven stages from creation to exit: seed, start­up, growth, stability, expansion, maturity and exit.3 And just as companies exist in entirety on a life cycle curve, individual internal systems do as well — most importantly, the supply chain.
In less mature supply chain relationships, it is common for suppliers to purposely 'work around' procurement in an effort to inflate their own margin capture within the supply chain and share with R&D that they get 'first view of new opportunities'. Left uncontrolled, this leads to inefficient supply chains and organisations get 'caught in the middle' between their customer base and their suppliers to maintain margins as the market gets competitive. In more mature supply chain relationships, internal stakeholders and partner suppliers work together to share margin and value creation and ultimately are able to enhance EBITDA, efficiency and accelerated speed to market, which results in longer-­term competitiveness and the ability to outperform competitors with less mature supply chains. To fully realise this value, mature supply chain organisations have open internal communication and leadership involvement to help focus the organisation around which specific opportunities to align on, clearly defined accountability matrices to drive aligned opportunities, open communication and supplier relationship management (SRM) tools that report shared interests and benefits and structured review process of ongoing results and performance metrics within the end ­to ­end supply chain.
CASE STUDY: TRANSFORMING COMPANY CULTURE THROUGH LEADER AND ORGANISATION IMPROVEMENT4
Leader and organisation improvement (LOI) was the cornerstone of this supply chain transformation engagement. Working closely with the organisation's CEO, the senior team and HR resource implemented a total change in its culture, processes and cross-­functional relationships. These new cross­-functional teams helped:
• Establish clearer roles, responsibilities and accountability;
• Transform the design of its supply chain organisation based on new processes in merchandising and other areas;
• Define clear goals and objectives as part of a focus and alignment working session with leadership. These were cascaded into the ORCI framework and the right KPIs were established to measure success;
• Design and execute a change management programme that drove culture change and enabled employees to understand and adopt the new business model;
• Conduct a skills assessment of leadership in the merchandising team, enabling human resources to align talent development needs;
• Design and implement a new procurement management operating system (PMOS) for merchandising and a management operating system (MOS) for the broader organisation;
• Create procurement service level agreements (SLAs) between departments involved in the supply chain.
The new business model was centered on creating a focused, aligned and accountable organisation which is capable of delivering on strategy and growth objectives. In addition, the clarity of the roles within the organisation and a focus on the actions and tools allowed for enhanced communication, alignment and mutually beneficial outcomes with their supplier community. Within the first several months of implementation and engagement with the supplier community, it was clear that the suppliers understood the situation and how they could directly contribute to the known goals and work closely with the organisation to affect accelerated achievement with them. This shared effort resulted in:
Decreased working capital by 25 per cent;
• Reduced cycle time by 15 per cent;
• Reduced logistics spend by 6 per cent;
• Delivered in excess of 10 per cent savings on prior­-year purchases with a clear strategy to generate further yearon­year savings;
• Reduced small parcel and domestic trucking costs by more than 5 per cent; • Improved variable warehousing costs by 10 per cent.
FORMAL SUPPLIER ENGAGEMENT
Suppliers have options on where to focus their valuable resources. Too often this focus can be steered toward the Pareto of the top margin­-producing customers as measured by past results. So often the potential of future growth, strategic partnerships and long-term value creation gets lost in the day­ to­day of 'business as usual' philosophies. If organisations are not on the highest margin contributor list, they can be overshadowed and relegated to an automated fulfilment status for ongoing business. Only 'squeaky wheels' about performance and higher margin scenarios warrant engagement from these suppliers. Supplier communities need to be thought of as one of an organisation's key assets that must be actively managed. They must be managed in a way that is fluid, able to adapt to changing market dynamics and able to deliver continuous improvement. Organisations need to focus on ongoing performance-­based metrics over 'great relationships' and 'whenever there is a problem, they fix it'. Left unattended and unmeasured, an organisation's supply chain will devolve into a state that tolerates complacency and stifles efficiency gains.
To capture the 'mind-share' of an organisation's supply chain, formal communications of vision, objectives and goals must be shared. Suppliers that understand an organisation's focus are better aligned to support that focus with their resources. Making sure suppliers have an understanding and a clear path to benefit from this alignment empowers them to support an organisation's initiatives within their capabilities rather than solely striving for their own agenda and initiatives. This requires alignment with incumbent suppliers and additionally, a significant number of future potential suppliers that could have better solutions over time.
Hosting formal recurring supplier forums with current and potential supply chain stakeholders enables alignment and provides a structured environment for expectation setting and ongoing improvement identification across the supply chain. Stakeholder participation within these forums should be geared to the highest levels of leadership directing resource allocation within their own organisations.
Embracing a simple philosophy of 'rewarding the eagles and starving the turkeys' and creating visibility to the awarding of future business assures an organisation it will get the attention and focus of top­-performing supply chain participants. Optimised supply chains must be maintained and continuously informed as to current performance results and ongoing improvement expectations. The cadence of supplier forums should be aligned with the speed of innovation and complexity within an organisation's supply chain and/or industry. Supplier forums are great for sharing vision, objective and goals for long, medium and short­-term initiatives.
In addition, quarterly business reviews (or more applicable cadence) are used to monitor and report supply KPIs in alignment with the expectation communicated in the supplier forums. Improvement goals and initiatives are updated as needed and communicated appropriately on an ongoing basis. This allows accelerated implementation and realisation of an organisation's supply chain execution toward evolving initiatives.
CASE STUDY: ADDING US$600M TO CASH FLOW
A Fortune 150 manufacturer of durable goods, even though they had a positive net income, saw a disappointing cash flow and economic profit. Aggressive action was needed to support share price and to bolster the company's viability. The solution was to use the supply chain organisation to drive down working capital and improve cash flow and the first step in that strategy was to demystify working capital and understand its importance. A detailed plan was put in place to rationalise finished inventory to 50 per cent of its current level, a US$250m reduction, with no negative impact on product availability. To do so, the supply chain organisation led four initiatives: reduce the number of stock keeping units (SKUs), improve manufacturing flexibility to react faster to demand changes, address slow­-moving inventory, and manage demand to more closely match supply chain constraints. This required cross­-functional cooperation with their supplier community that had previously not existed. By opening communication and visibility to this challenge holistically with their supplier community, they also identified clear
actions and tools that were aligned with the detailed plan. The organisation was able to effectively include key suppliers in the solutioning and benefited from the increased mind-share and resources from their supplier partners. The team was able to attain its goal and took US$600m, or 50 per cent, out of working capital, yielding a major increase in cash flow and economic profit, all while still improving customer fill rates.
RELIABILITY AND EFFECTIVENESS
Ultimately, a successful supply chain will win the day when it is managed to drive continuous improvement. Supply chain professionals and organisational leadership should look to leverage their supply chain and cross-­functional stakeholders to drive overall value to shareholders throughout the end ­to end supply chain. Shareholder value is inextricably linked to supply chain performance.5 A lack of strategy, misapplication of technology or internal or external silos hinder this goal; value is derived when leaders move beyond seeing supply chain as a tactical set of tools and procedures for procurement, and instead see it as part of a broader strategic vision that rather than having mere cost­-savings as its goal, has as its goal creating value and economic profit.
MATURITY IS KEY TO SUSTAINABLE EBITDA, CASH AND GROWTH IMPROVEMENTS
Moving an organisation's supply chain from a low maturity to a higher maturity inherently requires commitment and alignment from various stakeholders within the organisation. To enable and sustain the required change management of this process it is imperative that C­level top­down commitment is highly visible and directive to the commitment to grow to a higher­level maturity. Without C-­level commitment, it is simply too easy for key stakeholders to veto the progression by working outside the organisation's aligned interests. Individuals that blur messaging to internal and/or external stakeholders can inadvertently or intentionally harm an organisation's ability to fully optimise its supply chain. It is imperative that stakeholders be made aware of the benefits a mature high-­visibility supply chain can deliver. It is also imperative that each holds each other up to the ever-increasing value­ creation expectations that results from an ever­-maturing and optimised supply chain. Disengaged key stakeholders can be a cancer to a healthy optimised supply chain and the ultimate maturity will be no greater than the weakest link in the support of optimisation. Organisation leadership must seek to install a simple philosophy of 'none of us is as smart as all of us' and set a norm of focus and alignment around optimised supply chain. Stakeholders directly accountable, consultative and supportive, must take extreme ownership6 of their role within the overall management of an organisation's supply chain — a business philosophy derived from a military mindset in which stakeholders 'own' not just the tasks they control, but all tasks that affect the success of the mission. Doing so will ensure their organisation's supply chain remains a competitive weapon in the marketplace, and that it will deliver excellence in the pursuit of EBITDA, cash and growth.
Table 1 shows a simple list of areas for improvement and the direct implication on business performance that an organisation and its stakeholders can realise from increased 'maturity' in each of these areas.
Specific Actions/Tools that can Lead to Optimized Supply Chains

E=EBITDA, C=Cash, and G=Growth

Improve Product and Service Innovation

E, C, G

Improve Material Cost Inputs

E, C, G

Improve Production and Logistics alignment and efficiency

E, C

Accelerate Time to Production/Market

C, G

Collaborate with suppliers for value engineering, design, and production Efficiency

E, C, G

Optimize Vendor/Internal managed Inventory

C

Improve Terms

E, C

Reduce Cycle times throughout End to End Supply Chain

E, C

Accelerate ability to move to Lower Cost Materials, Production, and Logistics Channels

E, C, G

Increase Quality & Consistency where value created

E, G

Increase production efficiency through scheduling, staging, manufacturing and Quality Control

E, C, G

Emphasize National and Global purchasing power for increased competitiveness

E, G

Emphasize Standard Components for End to End supply chain where possible

E, C

Accelerate NPI/PLM process and methodology

E, C, G

Accelerate product piloting, testing, rollout, and sunsetting processes

E, C, G

Create Optionality to advantaged production processes

E, C, G

Allocate Organizational Mindshare to High Value initiatives

Emphasize tighter Demand and Supply management tools

E, C, G

Improve product/service features and benefits for value creation

E, G

Pre-design scalability requirements

G

Consolidate or Expand supply and product mix by supplier as appropriate for cost and efficiency

E, C, G

Manage material movement efficiency

E, C

Value engineer material inputs, products, Packaging, and distribution solutions for efficiency

E, C, G

Source: Maine Pointe
CONCLUSION
Understanding an organisation's supply chain maturity level is not as easy to visualise as watching the result of a rowing competition. In a rowing competition, the gains in each maturity step have a direct impact on time that is demonstrated in the competition. The most effective way to determine an organisation's maturity, and ultimately the end result on business performance, is to benchmark against other organisations or perform a detailed analysis compared to best practices. To improve over time, an organisation needs to review where it is on its maturity journey and focus on improving any areas of performance that are lagging. It is often the case that the lowest performance attribute of an organisation's supply chain will determine how mature it is and the impact it has on performance. A great rowing team with poor equipment will not perform at its best. A poorly trained and unfit rowing team will not realise the potential of the best equipment. Determining where your supply chain's maturity really is and mapping the specific steps to drive to a higher maturity level will ultimately deliver improved business performance. Focusing on the areas listed above allows for improvements that meet the current needs of the organisation. Even better, finding ways to accelerate maturity advancements could be one of the most powerful ways to turn an organisation's supply chain into a competitive weapon and drive the triple effect of EBITDA, cash and growth together. Even the teams with the highest performance levels today have the ability to improve on their performance tomorrow if they focus on adopting the right methodology, tools and effort across their supply chain, thus assuring sustainable progress.
REFERENCES (1) Maine Pointe (n.d.), 'Actionable insights to optimize operations and implement an on­demand supply chain for competitive advantage', available at http://www. mainepointe.com/hubfs/Perspective_Papers/ Data­Analytics­Perspectives.pdf (accessed 11th September, 2019). (2) Global Supply Chain Institute (November 2018), 'Supply chain integration strategy best practices', University of Tennessee, available at https://haslam.utk.edu/ whitepapers/global­supply­chain­institute/supply­chain­integration­strategy­bestpractices (accessed 11th September, 2019). (3) Bowen, S. (2017), Total Value Optimization: Transforming Your Global Supply Chain Into a Competitive Weapon, SJDB LLC, Duxbury, MA. (4) Maine Pointe (n.d.), 'Case Study: Strategically and organizationally repositioning a retailer to successfully compete in a rapidly evolving market', available at https://cdn2. hubspot.net/hubfs/12579/CS215a%20 Strategically­and­organizationallyrepositioning­a­retailer­to­successfullycompete­in­a­rapidly­evolving­market.pdf (accessed 11th September, 2019). (5) Dittman, J. and Pellathy, D. (April 2019), 'Driving Shareholder Value with your Supply Chain', Global Supply Chain Institute, University of Tennessee. (6) Willink, J. and Babin, L. (2015), Extreme Ownership: How U.S. Navy Seals Lead and Win, St. Martin's Press, New York.