Adaptability and innovation are the keys to success in a rapidly changing market
Recent studies estimate sales of consumer packaged goods (CPG) will reach more than $14 Trillion next year. From any perspective, that's a number too huge to ignore. However, the industry has its troubles and if there's one industry that has felt the full pain of market disruption in recent years, it's CPG.
In a highly-competitive market, powerful retailers and decreasing margins characterize the industry. Larger players have a distinct advantage, they command greater influence with retailers and can more easily modify pricing. However, they have been losing market share to small to mid-sized CPG companies who are more able to rapidly adapt to consumer trends and the fact that consumer preference has switched to a more local model.
Over the recent years, billions of dollars have shifted away from large CPGs to smaller ones, and the trend is increasing. Consumers' omni-channel preferences have also presented a challenge for large CPG companies as their traditional fulfillment and distribution models are shifting drastically.
Leaders of consumer products companies need to strike a delicate balance between cost, quality, product innovation, and market growth, all while maintaining margins. The need to drive EBITDA, cash and growth will be essential for larger CPG companies to survive and smaller to mid-sized companies to thrive.
Areas of innovation
Accelerating new product development and time-to-market efficiency to meet consumer demand
Improving the sales inventory and operations planning process (SIOP)
Improving supply chain responsiveness and transparency
Meeting consumer demand for daily doorstep delivery
Increasing manufacturing efficiency
Managing operational risk more effectively
Improving customer service and ensuring regulatory compliance
Combating the scarcity of available talent by developing existing capabilities
Responding to an increasingly environmentally conscious consumer, combined with tightening environmental and safety regulations
Using predictive, prescriptive and cognitive data analytics in the supply chain to support "fact-based" decision-making to mitigate risk and capture business opportunities
We can help
In an industry sector where margins are tight and customer expectations are constantly rising, striving to achieve Total Value Optimization™ has never been more vital. We have worked with large and small CPG companies and have mapped out a better route to stay close to today's consumer.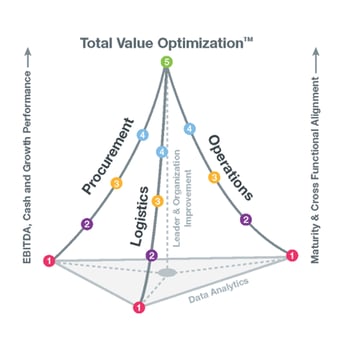 Our results-driven Total Value Optimization™ approach helps companies see clearly from one end to the other end of their value chain. This enables them to unlock the value in each function of the business and leverage it across their organization to provide the leadership alignment, process integration and information visibility that help drive cost out and pull intelligence in.
Focusing holistically on the critical interdependencies of procurement, logistics, operations and planning functions, TVO aligns and integrates people, processes and data analytics across functional silos to deliver the best value to customers at the lowest cost to business.
To succeed, leadership needs to align limited resources, break down departmental silos and engender a culture in which every team member understands exactly how their own activities contribute to the organization's broader strategic goals. Maine Pointe helps its clients to develop these capabilities and to implement new processes and tools within a sustainable, healthy organization. That's why our clients succeed and why Maine Pointe is a strong partner.
What Maine Pointe Achieves
Company overview
A leading audio and technology consumer products company.
What we did
Created and delivered complex strategic sourcing negotiation programs in strategic procurement to drive cost out of existing products and new product introduction
Developed and executed negotiations for logistics services
Migrated the client to Tier-1 contract Electronics Manufacturing Services (EMS) partners from lower tier providers
Designed and implemented vendor management processes/ templates – to accelerate and ensure projects are delivered to market on time and within shorter timelines
Outcome
Improved intellectual development results and greatly accelerated speed-to-market for deployment of intellectual property in new product launches
Created the conditions to dramatically improve working capital and overall supply chain benefits
Achieved procurement savings of 19%, with YoY continuous improvement commitments of 5%
Reduced the cost of logistics by 15%
Almost doubled EBITDA
Achieved a project ROI of 6:1
---
Company overview
A global apparel manufacturer and marketer
What we did
Took the product development process to multi-month rather than multi-year to reduce new product time-to-market and position the company as innovators in their field
Built a bill of materials (BOM) to help implement portability, opening up the opportunity to source from lower-cost countries and regions
Sourced lower price/same quality products from new suppliers
Improved the process for on-boarding new suppliers
Helped build a 'should cost' model to gain control of their supply chain
Outcome
Achieved a 17% increase in new supplier introduction rate
Reduced costs by 5% in year 1
On course to make 9% additional savings in years 2 and 3 as they adopt further savings projects and charters identified by Maine Pointe
ROI of 3.4:1
---
Clients Speak
"Maine Pointe promised us industry experts and delivered. They promised us savings and delivered. They promised to leave us with a sustainable process that would continue to yield benefits years down and they delivered. All of this was done while maintaining and strengthening supplier relationships that we have had for more than 20 years. I have the highest regard for Maine Pointe and am happy to recommend them to any company."

Rory Leyton, President and CEO, Hoffmaster Group, Inc
---
I was skeptical of the savings based on our experienced team and vendor knowledge. However, obtaining the bottom line 2 to 1 fee structure was not a problem and we achieved a number exceeding our internal forecast. When we interviewed the Maine Pointe team they stated, 'we typically achieve the high end of the mid-point,' and our project was no exception."

Scott Slater, Chief Executive Officer, NBG Home
---
Maine Pointe's ability to remain flexible and consistently adjust protocol as required to meet our

organization's needs resulted in a very successful relationship. The anticipated deliverables were realized while the Maine Pointe team remained vigilant in addressing our concerns around change management and adaptability."




Jason Higbee, Director of Materials Management, Grimmway Farms
---
Client Testimonial Videos