Increasing support for the warfighter through increased asset availability for mission readiness
Increasing demand for greater asset availability, cost efficiency and maintenance effectiveness are some of the key challenges facing the US military. To maintain a highly effective mission-ready military capability, senior personnel need to drive improvement and optimization efforts across their maintenance and supply chains, fast.

Our value proposition
At Maine Pointe we accelerate measurable improvement across the buy-make-move-fulfill digital supply chain to deliver the greatest value to government and citizens at the lowest cost to the military through Total Value Optimization™.
A results-driven approach
Our value proposition is pragmatic, measurable and focused on strategic value. Our hands-on implementation experts work with senior military personnel and their teams to rapidly move up the Total Value Optimization (TVO) Pyramid™.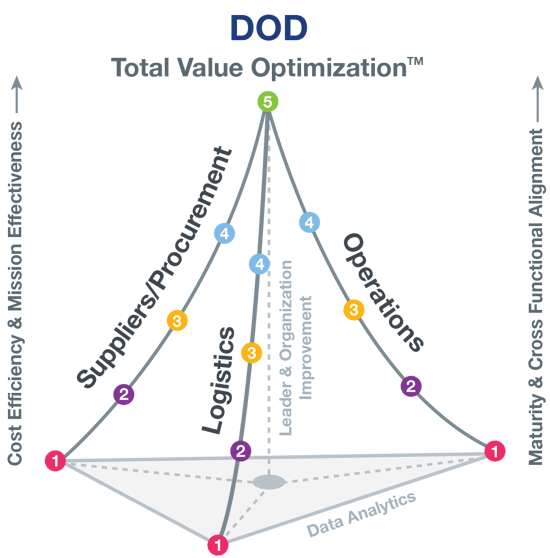 What we do
Maine Pointe's highly experienced supply chain experts help drive:
Better readiness rate, quality and cost reduction by optimizing maintenance, repair and overhaul (MRO)
Improved availability of cash to spend on repair and acquisitions (procurement)
Reduced overall repair and overhaul (flow days) time through improved throughput and team productivity
Efficient and effective logistics methods and reduction in time of transit to ensure arrival in proper condition for use by repair and operations teams and overhaul teams (MRO)
Improved procurement methods to reduce overall cycle time, cost and supplier performance

Helping the DOD support the warfighter
Maine Pointe is involved in a number of initiatives to help the DOD support the warfighter. These include:
Increasing availability of DOD resources for the warfighter at an ever-increasing reliability rate

Reducing overall spend, enabling future allocation of funds to programs that enhance equipment readiness for the warfighter

Improving supplier performance for multiple military branches

Accelerating initiatives to utilize less tactical and support assets to support the full mission for the warfighter

Transferring proven methodologies from commercial markets to the DOD environment to improve overall quality and cost

Hands-on, collaborative approach to driving success
Maine Pointe's approach was to deploy very knowledgeable technical detailed resources on the ground that worked hand-in-hand with our employees to understand the operation and develop the right tools for the business to drive the success we needed. From my experience, this sets Maine Pointe apart."

Gary McCloskey, VP Operations and Supply Chain, EaglePicher Technologies
Want to find out more?
Look at our TVO model to identify the areas of opportunity in your department
Hear what other executives are saying about working with Maine Pointe
Read some of our client success stories
Speak to one of our defense executives
---
---