Meeting the challenges of transforming food production
In a sector where margins are notoriously slim, concerns such as cutting costs, meeting safety standards, packaging and labelling rules and complying with stringent domestic and international regulations are a norm. However, new challenges are arising as a result of rapidly changing consumer preferences and expectations. These are forcing industry leaders to re-examine the entire value chain and embrace new technologies which give them the capability to deliver what consumers want, when and where they want it.
These challenges include:
Pressure on operating results as large companies choose to acquire businesses that are already producing the type of foods or ingredients they're looking for, rather than spend time and money on R&D
Developing multichannel distribution models to facilitate last mile/doorstep delivery in response to 'the Amazon effect'
Developing the ability to use real-time data to deliver actionable insights that drive efficiencies across the supply chain and operations

Embedding good water stewardship across global operations

Overcoming uncertainty over future trade agreements caused by US government legislation
Protecting margins and competitiveness in the face of increases in transportation and labor costs driven by NAFTA changes
Rescaling offerings in response to market dichotomy

Adapting to a rapidly changing market
Now is the time for food processors to reach the next level of supply chain and operations maturity. Developing superior end-to-end supply chain capabilities is an imperative for survival. A key enhancement is the digital supply chain. Breaking down internal barriers and building strong external partnerships is critical to dynamically sourcing materials, optimizing production and manufacturing plans, managing inventory, reducing distribution costs, slashing lead times and creating a sustainable competitive advantage.
Areas of innovation
Increased manufacturing efficiency
Improving the sales inventory and operations planning process (SIOP)
Improving supply chain responsiveness and transparency
Meeting consumer demand for daily doorstep delivery
Managing operational risk more effectively
Improving customer service and ensuring regulatory compliance
Combating the scarcity of available talent by developing existing capabilities
Responding to an increasingly environmentally conscious consumer, combined with tightening environmental and safety regulations
Using predictive, prescriptive and cognitive data analytics in the supply chain to support "fact-based" decision-making to mitigate risk and capture business opportunities
We can help
In an industry sector where margins are tight and customer expectations are constantly rising, striving to achieve Total Value Optimization™ has never been more vital.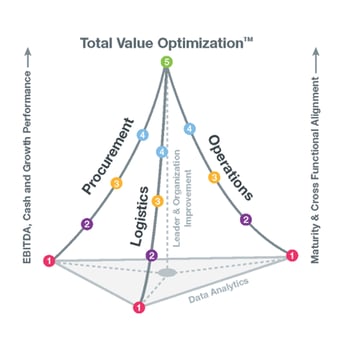 Our results-driven Total Value Optimization™ approach helps companies see clearly from one end to the other end of their value chain. This enables them to unlock the value in each function of the business and leverage it across their organization to provide the leadership alignment, process integration and information visibility that help drive cost out and pull intelligence in.
Focusing holistically on the critical interdependencies of procurement, logistics, operations and planning functions, TVO aligns and integrates people, processes and data analytics across functional silos to deliver the best value to customers at the lowest cost to business.
To succeed, leadership needs to align limited resources, break down departmental silos and engender a culture in which every team member understands exactly how their own activities contribute to the organization's broader strategic goals. Maine Pointe helps its clients to develop these capabilities and to implement new processes and tools within a sustainable, healthy organization. That's why our clients succeed and why Maine Pointe is a strong partner.
What Maine Pointe Achieves
Company overview
The world's largest oilseed processor and seller, with 22,000 employees in more than 30 countries.
What we did
Defined and implemented a proactive maintenance process
Targeted increases in Overall Equipment Effectiveness (OEE) from 62% to 75%
Established

an inventory policy to reduce finished goods inventory
Outcome
Processing maintenance downtime reduced to 1% to 2% per week
Processing production increased from weekly average of 7.7M lbs. to 9.2M lbs.
Packaging OEE increased from 52% to 63%
Significant improvements in cross-functional communications
---
Company overview
A leading producer of fully-cooked refrigerated entrées with the majority of their business being private label.
What we did
Strategically sourced food, packaging, MRO, transportation and distribution categories involving incumbent and prospective suppliers
Developed and implemented a Management Operating System (MOS) to improve performance of every attribute of the business
Outcome
Improved supplier relationships which led to a positive shift in perception among the supply base
Enhanced the professional environment with an increased emphasis on planning, execution and category leadership
Realigned the distribution network resulting in the selection of a 3PL provider
Achieved more than 12% in savings with ROI of over 3:1
---
Clients Speak
I am happy to report that, not only were our joint savings targets exceeded, but that our supplier relationships and transparency have also improved dramatically. The practical and pragmatic approach of the Maine Pointe team, has laid a solid foundation for ongoing improvements within our procurement department."

CEO, Food Processing
---
Our experience with Maine Pointe was a very positive one. Apart from the significant financial benefit accruing from our procurement and supply chain engagement, we will continue to benefit from the up-skilling of staff, process innovation and change mentality the engagement delivered. Maine Pointe are professional partners, focused on delivery and making the results stick. I have no hesitation in recommending Maine Pointe to others. "

Rob Burnett, CEO Bernard Matthews
---