Key challenges impacting traditional grocers
Traditional supermarkets have been consistently losing share to discount, dollar, and extreme discount in lower-income segments. They have also been losing share to specialty and warehouse clubs in higher-income groups

Top 5 national chain consolidation is threatening even the strongest traditional grocer's local market share

Changing demographics are driving demand for a healthier, better quality, more ethnic perishables mix

The decline in independent, core, nationally branded, high margin frozen food categories threatens gross margin

Single member households now stand at the highest levels ever recorded, which threatens basket size
Supplemental Nutrition Assistance Program (SNAP)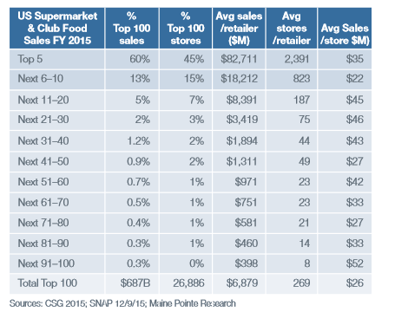 Our proprietary research of Supplemental Nutrition Assistance Program (SNAP) registered grocers (excluding Dollar and C-stores) indicated a 6% increase in top 5 national chain market share in the past two years. The smallest 90 retailers in the top 100 only represented 27% of total 2015 sales, and the gap is widening.
---
The 5 rights

To maintain and improve EBITDA results under such competitive pricing pressure, you need to shift your focus. It's time to concentrate on the '5 rights', right product, right place, right time, right quantity, and right price.
With food and beverage suppliers facing their own profit pressures, where is the low hanging fruit for retailers? Reducing the cost of goods is probably not the best area of attack. A smarter place to start is by reducing the costs that are under retailers' control and the most obvious area for many of our clients is shrink.
---
Our Approach to Shrink Reduction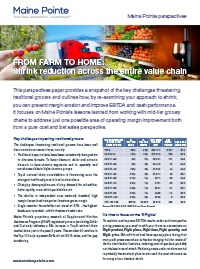 The earlier in the value chain you fix a problem, the cheaper it becomes

Start developing 'strategic procurement' relationships with your key suppliers
Constantly evaluate the best distribution option for your organization
Build consistent processes across the value chain
Train effectively and measure always
---