Rapidly adapting supply chain and operations to meet changing consumer preferences
The market has shifted, more consumers will buy online and the platforms through which they do this will be based on ease of use and access to the goods they need and want. A Q1 2021 survey by PowerReviews found that 73% of consumers bought grocery items online in the first three months of 2021, compared to only 17% in 2017. Consumers name convenience, safety (relating to COVID-19), the ability to easily compare products and prices and saving time as their main reasons for this. At the same time, in-store purchases of groceries are also going strong, with 95% saying they had bought goods in store in the same three-month period.
Stores need to support consumers through efficient and easy omnichannel operations. Some have been innovative, rapidly adapting their supply chain and operations model to satisfy changing consumer preferences. Post-pandemic, food retailers will need to work closely with suppliers to drive end-to-end visibility, simulation, optimization and control across their supply chain and operations. The first step is to establish a data control tower to provide a single source of truth.
Maine Pointe is the number one Supply Chain Consulting Firm in the US, according to Consulting US (beating global brand names and niche firms). In addition, in 2021 Forbes and Statista recognized Maine Pointe as one of America's Best Management Consulting Firms for the second consecutive year. Both lists are based on independent insights and surveys from clients, experts and consultants.
The five rights
To maintain and improve EBITDA results under such competitive pricing pressure, you need to shift your focus. It's time to concentrate on the '5 rights'; right product, right place, right time, right quantity, and right price.
With food and beverage suppliers facing their own profit pressures, where is the low hanging fruit for retailers? Reducing the cost of goods is probably not the best area of attack. A smarter place to start is by reducing the costs that are under retailers' control and the most obvious area for many of our clients is shrink.
Get in touch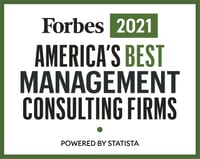 We have the remote delivery capabilities and industry expertise to help accelerate your supply digital chain and operations initiatives immediately. Contact us to discuss how we can help your organization build the foundations for a resilient, agile, digitally enabled supply chain and operations of the future.