Cross-functional supply chain collaboration is key to accelerating time-to-completion
Increasing demand for greater asset availability, aircraft completions, cost efficiency and maintenance effectiveness are some of the key challenges facing the aerospace and defense industry. Major aerospace manufacturers need to rapidly ramp up production rates to meet increased demand from key markets. If they don't, revenue and share price are at risk. Meanwhile, defense firms operating within a more demanding environment need an increase in utilization of assets, resources, buildings, capital equipment, materials and aircraft.
Now more than ever, executives need to look at how they optimize their supply chain and operations; from suppliers to logistics, through to maintenance, repair, and overhaul (MRO). The pace of change, alongside an explosion in digital approaches, has caught many industry players by surprise. To survive, grow and achieve competitive advantage, they need to act quickly to optimize quality, rate and cost across the entire collaborative supply chain.
Maine Pointe has highly-qualified aerospace and defense consultants who are certified to work with the military (DOD), commercial aircraft, business aircraft and general aviation aircraft. With a collaborative and integrated Total Value Optimization™ approach, we help military and commercial clients break through silos to achieve the "Art of the Possible," accelerate improvements in costs, quality, cash and throughput across the entire value chain.
Experience and Expertise

Who we are
We are a global implementation-focused professional services firm trusted by senior military personnel, chief executives and private equity firms to drive compelling economic returns. We achieve this by delivering accelerated, sustainable improvements in both EBITDA and cash across procurement, logistics and operations to enable growth.
What we do
Our unique TVO approach helps drive self-funding operational momentum through the triple effect of driving cost out, releasing cash and fueling growth. Our certified experts help drive measurable results 3x faster than traditional methods to help optimize the throughput and production of new aircraft and accelerate MRO capabilities.
The Total Value Optimization framework, resting on a foundation of data analytics, is the best approach we have seen to achieve integrated supply chain excellence in logistics, operations and procurement." - J. Paul Dittman, Executive Director, Global Supply Chain Institute.

How we do it
Our hands-on implementation experts work with executives and their teams to rapidly move up the Total Value Optimization (TVO) Maturity Curve™ and enable growth by:
Identifying and quantifying the real opportunity
Identifying current constraints and barriers
Creating a robust and measurable business case with a clear ROI
Developing a pragmatic roadmap for accelerated results
Working closely with clients to implement and track measurable improvements
Infusing best practice and delivering a quantifiable ROI
Training, mentoring, and enhancing internal teams for sustainable performance
Achieving Total Value Optimization™
Total Value Optimization™(TVO) is achieved when an organization is dynamically able to anticipate and meet demand through the synchronization of its buy-make-move-fulfill supply chain to deliver the greatest value to customers and investors at the lowest cost to business. Calculate the value potential for your business today and take our 10-minute assessment.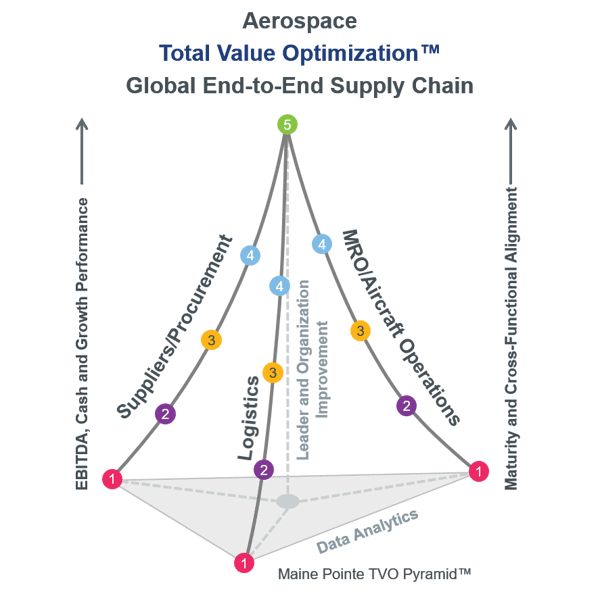 Why we are different
Our integrated approach is different in 6 key ways:
Want to find out more?
Clients speak
An accelerated TVO approach met objectives on time and within budget
I would like to commend you for doing an outstanding job on our recent engagement to implement a Management Operating System and fast track a strategic procurement initiative to drive operational improvement in our business. The objectives were to drive double digit percentage improvement in our EBITDA by achieving 10% savings in our manufacturing costs and more than 5% savings on our raw material spend. I am pleased to say we met those objectives on time and within budget. Maine Pointe's Total Value OptimizationTM (TVO) and procedural approach, coupled with an accelerated schedule, were the key reasons behind our decision to move ahead with the engagement."


Devlin Riley, President, Borchers
Delivered above expectations
Congratulations to Maine Pointe for a job well done. You have gone above your commitment and been instrumental in the building of our new plant as well as the success of our procurement team."

Mienolf Schmidt, Purchasing Leader, Automobile Engine Manufacturer