Helping OEMs capture aftermarket service opportunities through an optimized on-demand supply chain
Right now, OEM company revenue is being lost to third parties who feast on the aftermarket services business. With the global services business primed for growth, Maine Pointe is ideally positioned to help OEMs optimize their aftermarket business and deliver same day achievement to fuel growth and profitablity.
Challenging times ahead for the automotive aftermarket
Innovation in the automotive industry has accelerated the need for expensive parts, components and functions. At the same time, customers are demanding less expensive parts for maintenance. This has changed the way parts are sold and distributed. Existing players in the aftermarket find themselves facing increased competition from private labels and greater Ecommerce participation.
With high operating margins and low rates of return, there are some difficult years ahead. There are likely to be few 'winners', but those that thrive will be the companies that learn to harness their limited resources in creative ways. Now more than ever, executives need to look at how they optimize their supply chain and operations; from suppliers to logistics; through to maintenance, repair, and overhaul (MRO). Optimizing quality, rate and cost across the entire collaborative supply network is critical to surviving, growing and achieving competitive advantage.

Who we are
We are a global implementation-focused consulting firm trusted by many chief executives and private equity firms to drive compelling economic returns for their companies. We achieve this by delivering accelerated, sustainable improvements in both EBITDA and cash across their procurement, logistics and operations to enable growth.
What we do
Our unique TVO approach helps drive self-funding operational momentum through the triple effect of driving cost out, releasing cash and fueling growth. For example our supply chain and operational implementation experts helped a multinational company set up a new global supply chain in just 14 weeks for their new stand alone business entity. This enabled it to drive revenue without delay or disruption.
How we do it
Our hands-on implementation experts work with executives and their teams to rapidly move up the Total Value Optimization (TVO) Maturity Curve™ and enable growth by:
Identifying and quantifying the real opportunity
Identifying current constraints and barriers
Creating a robust and measurable business case with a clear ROI
Developing a pragmatic roadmap for accelerated results
Working closely with clients to implement and track measurable improvements
Infusing best practice and delivering a quantifiable ROI
Training, mentoring and enhancing internal teams for sustainable performance

Achieving Total Value Optimization™
Total Value Optimization™(TVO) is achieved when an organization is dynamically able to anticipate and meet demand through the synchronization of its buy-make-move-fulfill supply chain to deliver the greatest value to customers and investors at the lowest cost to business. Calculate the value potential for your business today and take our 10-minute assessment.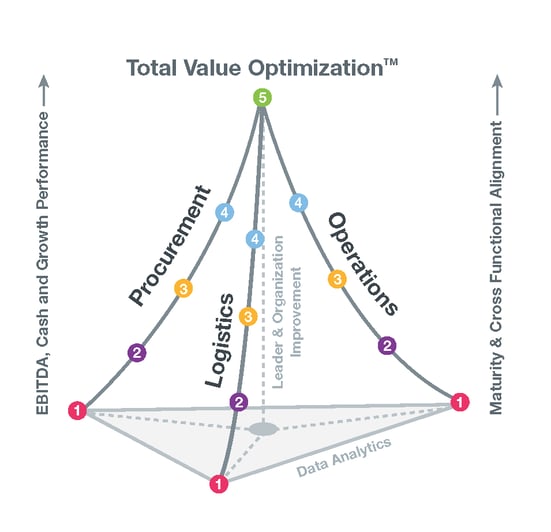 Why we are different
Our integrated approach is different in 6 key ways:
Want to find out more?
Look at our TVO model to identify the areas of opportunity in your business
Hear what other executives are saying about working with Maine Pointe
Read some of our client success stories
Speak to one of our industry executives
Strong team delivers powerful CEO recommendation
I am happy to report that our savings targets were exceeded. We were supported by a strong Maine Pointe team - from the initial analysis to the end of the project - and their

practical and linear approach to the project has laid a solid foundation for future improvements

within the Qualitor organization. Accordingly, I would not hesitate to recommend Maine Pointe."



Gary Cohen, Chief Executive Officer, Qualitor Inc.
---