Re-imagine your business and tap into growth opportunities
The building material manufacturing industry consists of structural building materials, interior building materials, exterior building materials, plumbing, electrical, HVAC, fixtures and other products. Sustainable building appears to be an emerging area of opportunity with the global green buildings market expected to reach USD 364.6 billion by 2022.
Industry 4.0
Technological innovations have facilitated a rise in demand in green building materials, as products are becoming increasing affordable and readily available. As a result, the demand has increased dramatically over the past few years largely due to a rebounding construction market.
The green revolution
Four out of five contractors cite that their customers request energy efficient materials for US projects and sustainability is at the heart of the European Union's Europe 2020 goals for smart, sustainable and inclusive growth.
Labor shortages
Skilled labor shortages, poor productivity and profitability, project complexity, sustainability concerns and increasing digitization all threaten to derail the industry's growth. Companies that address these challenges head on and re-imagine their business processes will be poised for significant growth. Businesses that fail to take the challenges seriously will face an uphill battle for viability.

Who we are
We are a global implementation-focused consulting firm trusted by many chief executives and private equity firms to drive compelling economic returns for their companies. We achieve this by delivering accelerated, sustainable improvements in both EBITDA and cash across their procurement, logistics and operations to enable growth.
What we do
Our unique TVO approach helps drive self-funding operational momentum through the triple effect of driving cost out, releasing cash and fueling growth. For example our supply chain and operational implementation experts helped a multinational company set up a new global supply chain in just 14 weeks for their new stand alone business entity. This enabled it to drive revenue without delay or disruption.
How we do it
Our hands-on implementation experts work with executives and their teams to rapidly move up the Total Value Optimization (TVO) Maturity Pyramid™ and enable growth by:
Identifying and quantifying the real opportunity
Identifying current constraints and barriers
Creating a robust and measurable business case with a clear ROI
Developing a pragmatic roadmap for accelerated results
Working closely with clients to implement and track measurable improvements
Infusing best practice and delivering a quantifiable ROI
Training, mentoring and enhancing internal teams for sustainable performance

Achieving Total Value Optimization™
Total Value Optimization™(TVO) is achieved when an organization is dynamically able to anticipate and meet demand through the synchronization of its plan-buy-make-move-fulfill supply chain to deliver the greatest value to customers and stakeholders at the lowest cost and risk to business.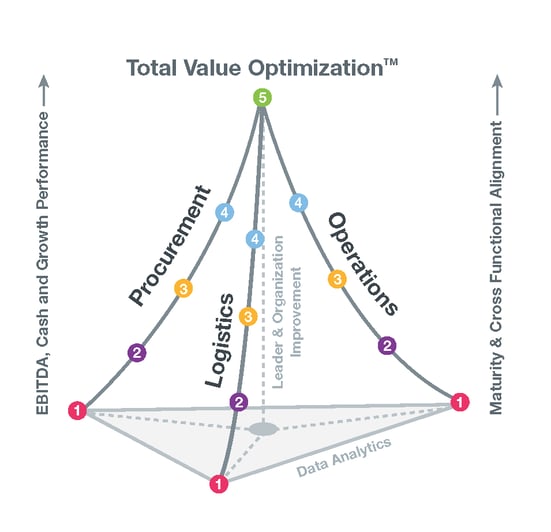 Want to find out more?
Look at our TVO model to identify the areas of opportunity in your business
Hear what other executives are saying about working with Maine Pointe
Read some of our client success stories
Speak to one of our industry executives
Working collaboratively with client team to enhance overall effectiveness
One of the many strengths of the Maine Pointe team was their communication and collaboration skills. Maine Pointe personnel worked closely and effectively with our executive leadership and cross-functional teams to identify and capture significant savings across the enterprise-wide spend portfolio. I would recommend Maine Pointe to any company looking to significantly improve their supply chain service offering and to enhance the overall effectiveness of their company."

Jamie Better, Chief Executive Officer, Nellson
Strong team delivers powerful CEO recommendation
I am happy to report that our savings targets were exceeded. We were supported by a strong Maine Pointe team - from the initial analysis to the end of the project - and their

practical and linear approach to the project has laid a solid foundation for future improvements

within the Qualitor organization. Accordingly, I would not hesitate to recommend Maine Pointe."

Gary Cohen, Chief Executive Officer, Qualitor Inc.


---
Get in touch
We have the remote delivery capabilities and industry expertise to help accelerate your supply chain and operations initiatives immediately. Contact us to discuss how following our three-step roadmap can set your organization on course to stabilize-recover-rebalance and build the foundations for a resilient, agile, digitally enabled supply chain and operations of the future.