Efficiency and agility are key to survival in a highly dynamic, rapidly changing industry
In all countries, distribution represents a large share of domestic production and employment. This a highly dynamic and rapidly-changing industry with a growing trend towards greater concentration. New forms of competition, such as the 'Amazon effect', and supply chain uncertainties caused by global risk events make efficiency, visibility and agility crucial to survival.

Key challenges and opportunities for the sector include:
An increasingly prominent role for major technological innovations such as autonomous vehicles and platooning for transportation, cloud computing, Big Data, the Internet of Things, robotics, drones and 3D printing
A shift in OEMs' focus to connected and autonomous vehicle technologies like GPS and smartphone fleet tracking, Big Data analytics, robotics, automation, and the internet of things (IoT), which will be used for predictive services in the future
The emergence of shared warehouses with vertical structures as warehouse remains at a premium
As road is the most commonly used mode of freight transportation substantial investments into transportation infrastructure upgrades will be required to improve efficiency in the sector

Who we are
We are a global implementation-focused consulting firm trusted by many chief executives and private equity firms to drive compelling economic returns for their companies. We achieve this by delivering accelerated, sustainable improvements in both EBITDA and cash across their procurement, logistics and operations to enable growth.
What we do
Our unique TVO approach helps drive self-funding operational momentum through the quadruple effect of driving cost out, releasing cash and fueling growth. For example our supply chain and operational implementation experts helped a multinational company set up a new global supply chain in just 14 weeks for their new stand alone business entity. This enabled it to drive revenue without delay or disruption.
How we do it
Our hands-on implementation experts work with executives and their teams to rapidly move up the Total Value Optimization (TVO) Maturity Pyramid™ and enable growth by:
Identifying and quantifying the real opportunity
Identifying current constraints and barriers
Creating a robust and measurable business case with a clear ROI
Developing a pragmatic roadmap for accelerated results
Working closely with clients to implement and track measurable improvements
Infusing best practice and delivering a quantifiable ROI
Training, mentoring and enhancing internal teams for sustainable performance

Achieving Total Value Optimization
Total Value Optimization (TVO)™ is achieved when an organization is dynamically able to anticipate and meet demand through the synchronization of its plan-buy-make-move-fulfill supply chain to deliver the greatest value to customers and shareholders at the lowest cost and risk to business.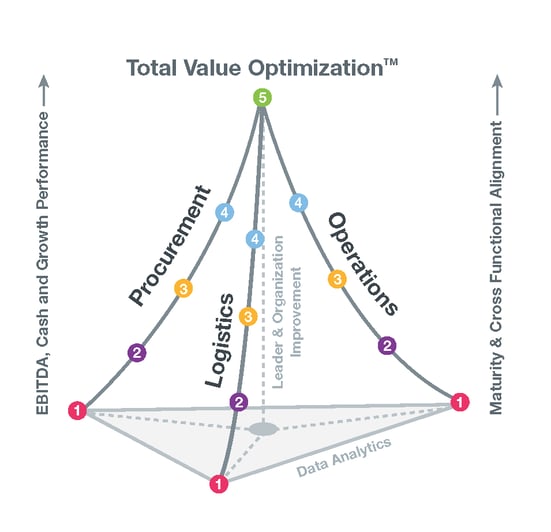 Why we are different
Our integrated approach is different in 6 key ways:
Want to find out more?
Look at our TVO model to identify the areas of opportunity in your business
Hear what other executives are saying about working with Maine Pointe
Read some of our client success stories
Speak to one of our industry executives
Working collaboratively with client team to enhance overall effectiveness
One of the many strengths of the Maine Pointe team was their communication and collaboration skills. Maine Pointe personnel worked closely and effectively with our executive leadership and cross-functional teams to identify and capture significant savings across the enterprise-wide spend portfolio. I would recommend Maine Pointe to any company looking to significantly improve their supply chain service offering and to enhance the overall effectiveness of their company."

Jamie Better, Chief Executive Officer, Nellson
Strong team delivers powerful CEO recommendation
I am happy to report that our savings targets were exceeded. We were supported by a strong Maine Pointe team - from the initial analysis to the end of the project - and their

practical and linear approach to the project has laid a solid foundation for future improvements

within the Qualitor organization. Accordingly, I would not hesitate to recommend Maine Pointe."



Gary Cohen, Chief Executive Officer, Qualitor Inc.
---