Capturing growth and profit: Optimizing your supply chain and operations for advantage
Industrial equipment manufacturers and suppliers need to quickly adapt to the ever-changing demands of a slow-growth environment where talent is in short supply and global risk events could have a significant impact. Executives need to look at how best to capture the benefits of the smart factory and digitization to transform the supply chain for competitive advantage. Fueling growth and profits through self-funding operational improvement, driving cost out and releasing cash, is vital to surviving and thriving in today's market.
Who we are
We are a global implementation-focused consulting firm trusted by many chief executives and private equity firms to drive compelling economic returns for their companies. We achieve this by delivering accelerated, sustainable improvements in both EBITDA and cash across their procurement, logistics and operations to enable growth.
What we do
Our unique TVO approach helps drive self-funding operational momentum through the triple effect of driving cost out, releasing cash and fueling growth. With an average of 25 years' work experience, our people are uniquely equipped to deliver measurable results 3x faster than traditional methods.
How we do it
Our hands-on implementation experts work with executives and their teams to rapidly move up the Total Value Optimization (TVO) Maturity Pyramid™ and enable growth by:
Identifying and quantifying the real opportunity Identifying current constraints and barriers
Creating a robust and measurable business case with a clear ROI
Developing a pragmatic roadmap for accelerated results
Working closely with clients to Implement and track measurable improvements
Infusing best practice and delivering a quantifiable ROI
Training, mentoring and enhancing internal teams for sustainable performance
Why we are different
Our integrated approach is different in 6 key ways:
Achieving Total Value Optimization™
Total Value Optimization™(TVO) is achieved when an organization is dynamically able to anticipate and meet demand through the synchronization of its plan-buy-make-move-fulfill supply chain to deliver the greatest value to customers and stakeholders at the lowest cost and risk to business.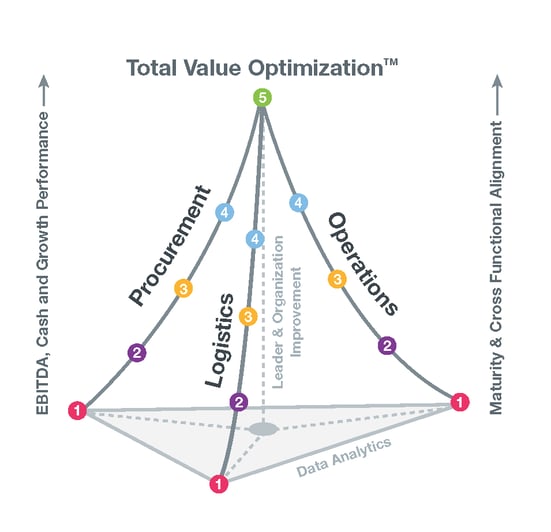 Want to find out more?
Successful Culture Change
It was a simple decision to bring in Maine Pointe to support our management team in planning and facilitating the largest undertaking in our company's history: a complete structural and cultural change for our operations. Each Maine Pointe team member was a true expert in their field, able to share best in practice applications and maximize the value added. "

President, Major Plumbing-Heating-Cooling Supply Company