Helping OEMs boost competitiveness with differentiated products and capabilities
The US has the largest medical device market in the world, with more than 6,500 companies worth an estimated $155 billion. However, US companies are losing competitiveness in areas like property rights, economic freedom, and expediency of the approval process. OEMs are facing significant headwinds in the form of taxation, regulations, cybersecurity threats and increasing competition from overseas, offshore and tech companies.
Competition from consumer tech
Technology firms have noticed that traditional medtech players have been slow to incorporate mobile analytics and cloud solutions; as a consequence, they have entered the medtech field. Google is investing in smart contact lenses, and other companies with a similar strategy include Apple, AT&T, Canon, Intel, Motorola, Reebok, Qualcomm, Samsung, Sony, and Verizon. These firms are focused on functionalities such as portability, wireless communication, personalized care, and seamless integration with other devices. They have a head start on the medtech industry due to their brand recognition and familiarity. Recently, large companies like IBM have invested significant capital in technology for medical devices, and in 2017 smaller companies are expected to experiment with AI products.
In order to prevail, medtech executives need to differentiate their products and demand premium pricing based on their capabilities. The most successful companies will be the ones that learn to enhance their products with service offerings that provide additional value. Optimizing quality, rate and cost across the entire collaborative supply network and learning to harness disruptive technologies are critical to surviving, growing and achieving competitive advantage.

A surge in demand for new medical equipment
With technology advancing daily, the acceleration of design and manufacturing capabilities for medical equipment and devices is driving medical manufacturing organizations at an ever-increasing pace. Advancements such as open MRI and robotic surgical technology equipment allow millions of people to experience minimally invasive surgical procedures and return home much faster. These new technologies coupled with stiff regulatory requirements and changes in how healthcare is funded, add to the complexity of achieving manufacturing and product releases on a timely basis.
To help adapt to these rapid changes in the market, the industry is being forced to re-examine its entire value chain, including suppliers, procurement, operations and logistics to optimize cost, product development, and time-to-market. Total Value Optimization helps respond to these challenges by driving self-funding operational momentum across the supply chain to drive new product development, growth & profits.

Value by innovation
Medical equipment manufacturers are designing their products for value by innovation and Maine Pointe's Total Value Optimization™(TVO) approach can help reduce the overall investment of supplier spend and improve logistics flow to either the medical customer or the manufacturing company. The cash released across procurement, logistics and operations can be re-invested into previously unfunded product development, helping growth and improving competitiveness in the market.
Achieving Total Value Optimization™
Total Value Optimization™(TVO) is achieved when an organization is dynamically able to anticipate and meet demand through the synchronization of its buy-make-move-fulfill supply chain to deliver the greatest value to customers and investors at the lowest cost to business. Calculate the value potential for your business today and take our 10-minute assessment.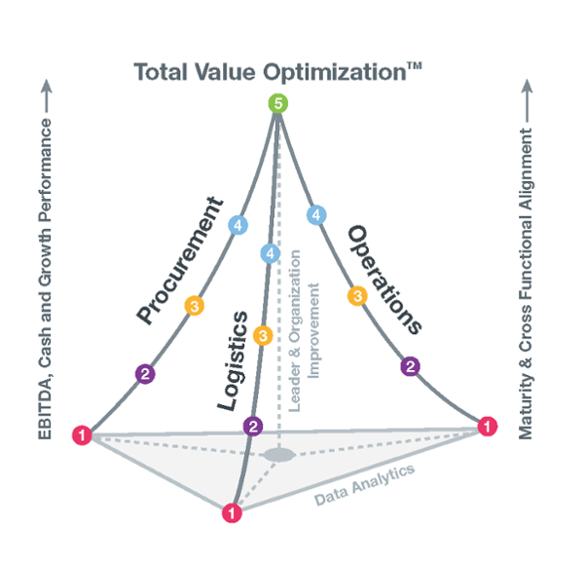 Who we are
We are a global implementation-focused consulting firm trusted by many chief executives and private equity firms to drive compelling economic returns for their companies. We achieve this by delivering accelerated, sustainable improvements in both EBITDA and cash across their procurement, logistics and operations to enable growth.
What we do
Our unique TVO approach helps drive self-funding operational momentum through the triple effect of driving cost out, releasing cash and fueling growth. For example our supply chain and operational implementation experts helped a multinational company set up a new global supply chain in just 14 weeks for their new stand alone business entity. This enabled it to drive revenue without delay or disruption.
How we do it
Our hands-on implementation experts work with executives and their teams to rapidly move up the Total Value Optimization (TVO) Maturity Curve™ and enable growth by:
Identifying and quantifying the real opportunity Identifying current constraints and barriers
Creating a robust and measurable business case with a clear ROI
Developing a pragmatic roadmap for accelerated results
Working closely with clients to Implement and track measurable improvements
Infusing best practice and delivering a quantifiable ROI
Training, mentoring and enhancing internal teams for sustainable performance
Want to find out more?
---
Clients speak
I would like to commend you for doing

an outstanding job

on our recent engagement to implement a Management Operating System and fast track a strategic procurement initiative to drive operational improvement in our business. The objectives were to

drive double digit percentage improvement in our EBITDA

by achieving 10% savings in our manufacturing costs and more than 5% savings on our raw material spend. I am pleased to say we met those objectives on time and within budget.

Maine Pointe's Total Value OptimizationTM(TVO) and procedural approach, coupled with an accelerated schedule, were the key reasons behind our decision

to move ahead with the engagement."





Devlin Riley, President, Borchers