Helping midstream oil & gas navigate the way forward
Across the oil & gas industry, executives are looking for ways to quickly cut costs, reduce capex, overheads and non-core assets and protect cash.
More than $85Bn has been cut from over 100 companies across the oil & gas industry
Midstream has been hit by the sharp fall in demand from downstream areas of the supply chain
Engineering Procurement Construction (EPC) projects face delays and cost escalation issues and there is uncertainty around future projects
The rigid nature of the oil and gas industry means it will struggle to change course quickly and minimize the financial impact of the crisis
Executives are under enormous pressure to devise a recovery strategy to quickly limit short-term disruption, support recovery in the mid-term, and build greater supply chain agility, resilience and optimization in the longer term
Maine Pointe is helping clients in the energy sector navigate and accelerate through these challenging times with a process of stabilize-recover-rebalance which drives supply chain rationalization and improvement initiatives three times faster than a traditional approach
We can help
Maine Pointe's implementation experts have the remote capabilities and industry expertise to help accelerate your supply chain initiatives immediately. In addition, as a member of the SGS group, our clients have access to the world's leading independent inspection, verification, testing and certification company.
Rebalance the oil & gas supply chain through Total Value Optimization (TVO)™
Built on a roadmap of three key stages; stabilize-recover-rebalance, Total Value Optimization (TVO)™ provides an accelerated pathway to overcoming short-term supply challenges and building the foundations for a resilient, digitally enabled, agile supply chain and operations of the future. TVO is achieved when an organization is dynamically able to anticipate and meet demand through the synchronization of its plan-buy-make-move-fulfill supply chain to deliver the greatest value to customers and stakeholders at the lowest cost and risk to business.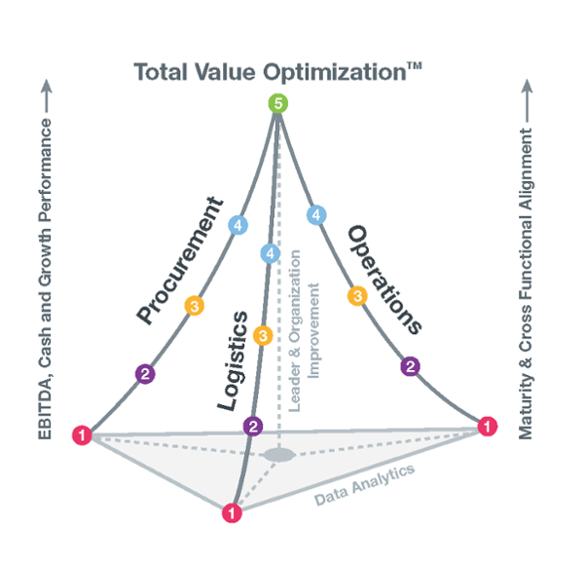 What Maine Pointe achieves in the oil & gas industry
Client overview
We helped a leading regional energy company drive cross-functional collaboration and integration to enhance value.
What we did
Developed and implemented a management operating system (MOS) for cyclical forecasting, planning, control and reporting
Aligned procurement and sourcing and improved contract management across the enterprise
Improved safety standards to manage risk posed by unmanned delivery of volatile/hazardous products
Optimized rail car utilization
Transitioned logistics and distribution to a stand-alone function and introduced intermodal routing options
Outcome
Enhanced the professional environment with an emphasis on planning, execution and category leadership
Renegotiated freight rates and eliminated carrier surcharge
Introduced a crude supply and pricing matrix for each refining center
Identified 48 primary routing alternatives and carrier combinations by lane
Established a process and procedures for managing major supply and demand disruptions
Delivered $5.5M in annualized savings and identified a further $50M
Achieved a 5:1 ROI
Client overview
We helped the operator of one of the United States' largest refineries diversify the crude oil supply chain to help realize its strategic goals.
What we did
Mapped process flows for a new crude oil supply chain
Established a management operating system (MOS) and tools to effectively manage a large rail operation
Facilitated Class 1 railroad negotiations
Assisted with the management of a new rail infrastructure to unload crude oil
Helped develop a new rail car strategy and rail fleet management process
Outcomes
New MOS enabled the client to begin managing the receipt of three crude oil train units per week with in six weeks, increasing to two unit trains per day within a year
Reduced construction cost of new crude oil handling facility by $8M
Implemented rail fleet management best practices to reduce rail transportation and accessorial costs on chemicals by $1.6M per year
Take the first step now
We have remote capabilities and industry expertise to help accelerate your supply chain and operations initiatives immediately. Contact us to discuss how following our three-step roadmap can set your organization on course to stabilize-recover-rebalance and build the foundations for a resilient, agile, digitally enabled supply chain and operations of the future.