Supply chain visibility and agility are critical to survival
It's been a particularly challenging year for the restaurant and food service sector with forced closures, social distancing rules and stay at home orders. However, while many sit-down services have struggled to survive, pick-up and delivery services are booming. Many businesses have been quick to adapt to the new normal, providing meal kits and online ordering services. As the COVID-19 vaccination program ramps up and restrictions are ease, the sector is likely to benefit from pent-up demand but, in these uncertain times, nobody can rule out future closures, and social distancing measures are likely to be in place for some time yet.
Executives need to act now to establish a digital control tower and ensure they have the supply chain visibility and agility to protect margins and drive EBITDA, cost, cash without compromising on quality and safety.
Maine Pointe is the number one Supply Chain Consulting Firm in the US, according to Consulting US (beating global brand names and niche firms). In addition, in 2021 Forbes and Statista recognized Maine Pointe as one of America's Best Management Consulting Firms for the second consecutive year. Both lists are based on independent insights and surveys from clients, experts and consultants.
Delivering accelerated, measurable and sustainable results
Company
Results
Quick service restaurant chain (CS112)

Aligned corporate and purchasing goals
Created, implemented & trained a strategic procurement infrastructure
Delivered strategic procurement management operating system
Instilled operating discipline in strategic sourcing & procurement
Achieved annualized savings of $5.1 million and an ROI of 6:1

Major chain of drive-thru restaurants (CS113)

Reduced food cost by 2% across franchise system
Improved supplier relationships
Enhanced planning, execution & category leadership
Realigned distribution network reducing inbound & outbound costs & improving service metrics
Delivered a ROI of 8:1


Fast casual restaurant chain (CS192)

Introduced industry best practices and people assessment tools to measure progress
Brought new suppliers into the supply chain, creating competition and sparking innovation
Generated downstream value optionality by preparing them for a major renegotiation to transition to a new food distributor agreement
Achieved 5% in annualized procurement savings


Quick service Mexican fast-food chain (CS121)

Enhanced professional environment through improved planning, execution, and category leadership
Up-skilled procurement team
Improved bottom line through cost reduction
Delivered over $5M in savings

Entertainment complex operator (CS120)

Reduced procurement spend by establishing commodity teams to focus on specific categories
Developed and implemented a formal strategic sourcing approach, incl. supplier qualification & assessment criteria
Implemented a formal RFI/P evaluation criteria & weighting
Identified & implemented use of strategic procurement KPIs to measure OTIF delivery service levels
Transformed procurement process from transactional to strategic
Multi-category savings in excess of 30% 6:1 ROI
We brought Maine Pointe in to help us review our key food and beverage categories, and to identify cost savings opportunities along with a sustainable procurement process. They delivered nine training modules from 'Supplier Conditioning' all the way through 'Implementing Supplier Agreements' as well as 'Improving and Building Supplier Relationships'. These modules will help us to monitor current and future market conditions, to maintain quality and consistency, and improve food costs throughout our restaurant system."

President and CEO, quick service fast-food chain
Get in touch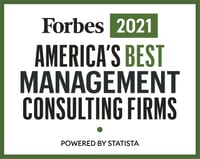 We have the remote delivery capabilities and industry expertise to help accelerate your supply digital chain and operations initiatives immediately. Contact us to discuss how we can help your organization build the foundations for a resilient, agile, digitally enabled supply chain and operations of the future.