What lies ahead for upstream oil and gas?
Faced with enormous uncertainty, executives across the oil & gas industry are looking for ways to quickly cut costs, reduce CAPEX and protect cash.
The global pandemic has wiped out almost a third of global oil demand
Upstream companies have serious concerns about the future availability of offshore work forces and access to ports and other critical infrastructure
The rigid nature of the oil and gas industry means it will struggle to change course quickly and minimize the financial impact of the crisis
Executives are under enormous pressure to devise a recovery strategy to quickly limit short-term disruption, support recovery in the mid-term, and build greater supply chain agility, resilience and optimization in the longer term
Maine Pointe is helping clients navigate and accelerate through these challenging times with a process of stabilize-recover-rebalance which drives supply chain rationalization and improvement initiatives three times faster than a traditional approach
We can help
Maine Pointe's implementation experts have the remote capabilities and industry expertise to help accelerate your supply chain initiatives immediately. In addition, as a member of the SGS group, our clients have access to the world's leading independent inspection, verification, testing and certification company.
Rebalance the oil & gas supply chain through Total Value Optimization (TVO)™
Built on a roadmap of three key stages; stabilize-recover-rebalance, Total Value Optimization (TVO)™ provides an accelerated pathway to overcoming short-term supply challenges and building the foundations for a resilient, digitally enabled, agile supply chain and operations of the future. Total Value Optimization is achieved when an organization is dynamically able to anticipate and meet demand through the synchronization of its plan-buy-make-move-fulfill supply chain to deliver the greatest value to customers and stakeholders at the lowest cost and risk to business.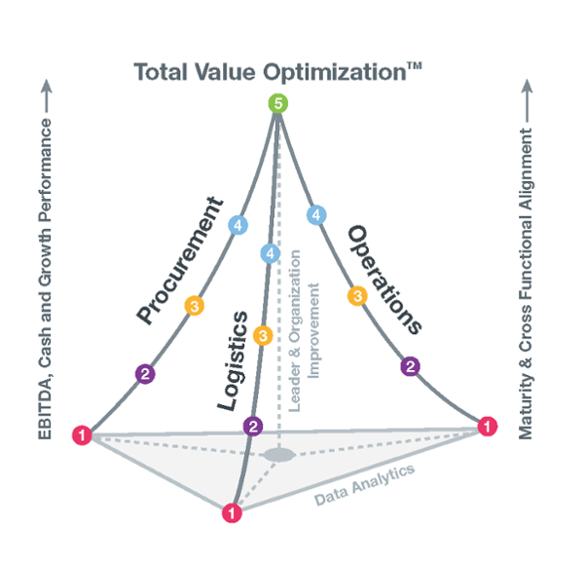 Take the first step now
Contact us to discuss how following our three-step roadmap can set your organization on course to stabilize-recover-rebalance and build the foundations for a resilient, agile, digitally enabled supply chain and operations of the future.