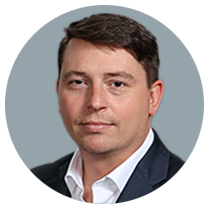 Jeff Staub
Chief Executive Officer
Jeff has deep industry and consulting experience working at the cross-section of strategic operations and engineered products, process industries, consumer products, retail, and private equity. He has experience working across the end-to-end, plan-buy-make-move, operations value chain and has deep expertise in post-merger integration, network strategy, four-walls improvement, supply chain management and functional excellence.

Before his role with Maine Pointe, Jeff was Equity Partner with a leading global consulting firm, delivering transformation projects for their Strategic Operations and Aviation, Aerospace & Defense practices, as well as leading the firms manufacturing specialist group in Asia Pacific and the Americas. He was often deployed as a global SME for advanced manufacturing and Industry 4.0 having co-led the firm's thought leadership on the topic and advised multiple clients on their digital strategies.

Prior to his consulting career, Jeff gained hands-on industry experience in various engineering and leadership roles within GKN. Drawing on his background, Jeff's work is driven by his problem-solving skills and endless intellectual curiosity.
BS Aerospace Engineering – Georgia Institute of Technology