Capacity challenges and disruptive models are driving the need for change in logistics and operations
The optimization and synchronization of cross-modal logistics with business operations is now a corporate fundamental. Most executives today recognize the need to change, yet still struggle to synchronize siloed procurement, manufacturing, logistics and fulfillment operations to anticipate demand and effectively meet customer requirements.
The global pandemic has pushed up the timetable for digitalization, putting traditional companies under increasing pressure to survive in the global market. This is a wake-up call for carriers to design new and improved processes and think creatively about the future. As customers demand a more transparent service that is faster and cheaper, carriers are developing the tools to process massive amounts of data in real-time. The keyword for success in this scenario is flexibility.
We can help
Maine Pointe has deep and differentiated capabilities in multimodal transportation, optimization modeling, planning for right product, right place, right time and lean operations.
Our implementation experts have onsite/offsite service delivery capabilities and global experience working across all industry sectors from crude-by-rail to business-to-consumer package delivery. We can help accelerate your supply chain initiatives immediately. In addition, as a member of the SGS group, our clients have access to the world's leading independent inspection, verification, testing and certification company.
Our service offerings

Rebalance the logistics supply chain through Total Value Optimization (TVO)™
Built on a roadmap of three key stages; stabilize-recover-rebalance, Total Value Optimization (TVO)™ provides an accelerated pathway to overcoming short-term supply challenges and building the foundations for a resilient, digitally enabled, agile supply chain and operations of the future. Total Value Optimization is achieved when an organization is dynamically able to anticipate and meet demand through the synchronization of its plan-buy-make-move-fulfill supply chain to deliver the greatest value to customers and stakeholders at the lowest cost and risk to business.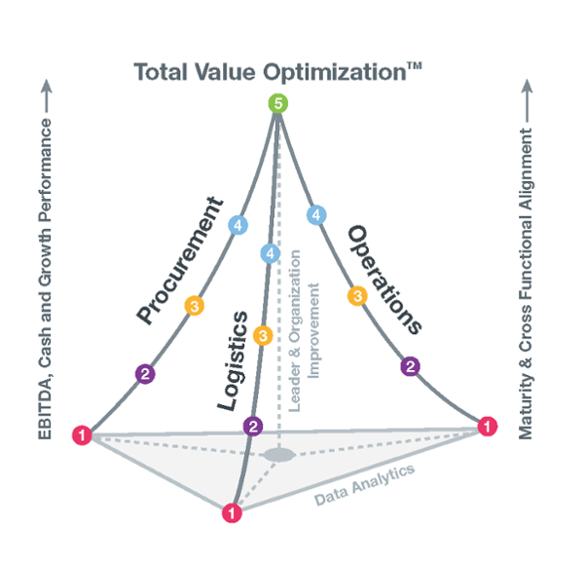 Client testimonials
Maine Pointe has been instrumental in helping guide Potash Corp with our long-term transportation and distribution strategy. With a tremendous team possessing expertise in many disciplines, they were able to communicate knowledge, and effectively transfer it, to our people. We have been extremely pleased with their performance."

David Delaney, Executive Vice President and Chief Operating Officer, Potash Corp
---
The Maine Pointe team 'opened our eyes', challenged our thinking, and helped us reduce our total North American logistics costs to some 25% less."

Herm Canil, Director, Purchasing and Supply Chain, PGW Glass LLC
---
Take the first step
Contact us to discuss how following our three-step roadmap can set your organization on course to stabilize-recover-rebalance and build the foundations for a resilient, agile, digitally enabled supply chain and operations of the future.