Achieving measurable supply chain and operations improvements in uncertain times
The risk dynamics related to global supply chain disruption, shortening product lifecycles, slim operating margins and the continual need to drive innovation are set to continue. Auto material, components & parts executives are under increasing pressure to improve supply chain agility, resilience, visibility and drive EBITDA, cost, cash and product performance in a practical, accelerated, measurable way.
Deep insights & experience - from raw materials, to parts manufacturing & distribution
Maine Pointe, a member of the SGS Group, is a global supply chain and operations consulting firm trusted by many automotive chief executives and private equity firms to drive compelling economic returns for their companies. Our supply chain and operations engagements deliver a ROI between 4:1 and 8:1 and we provide a unique 100% engagement fee guarantee based on annualized savings.
Delivering accelerated, sustainable results
Company
Results
Diversified supplier of auto parts (CS173)



Delivered a 79% EBITDA improvement across two businesses
Achieved a 20% YoY reduction on direct and indirect logistics and materials spend
Delivered a 10:1 project ROI

Leader in advanced battery technology (CS180)



Improved productivity by 31%
Enhanced visibility to costs, profits and variances to plan
Rationalized workforce by >30% while maintaining quality and 100% on-time delivery

Global designer and producer of automotive & non-automotive seating solutions (CS182)



Lowered inventories & stretched payment terms to save $2M in working capital
Deployed data analytics to design custom inventory simulation model
Brought together four business units as one unified procurement organization

Motor vehicle and trailer manufacturer (CS171)



Reduced order backlog from six months to two weeks

Improved overall final first pass quality by 333%
Increased production throughput by 22%

Global fleet safety solutions provider (CS234)



Introduced supplier optionality, selecting new suppliers for 100% of electronics & 90% of LTL shipping
New suppliers led to technological advancements to protect market share
Achieved annualized benefits of 40% in electronics and 16% across the organization
Introduced logistics management operating system (LMOS)

Heavy equipment manufacturer (CS222)



Released $51M in cash
Improved EBITDA by 12% in ten months
Deployed data analytics to improve supply chain visibility and assist decision making at 18 subsidiaries across seven countries and five continents
Implemented demand forecasting tools that provided warning of market shifts
Implemented a sustainable strategic sourcing process across multiple business units with diverse cultures

Automotive glass supplier & distributor (CS142)



Established a logistics management infrastructure
Developed a strategic plan to reduce logistics costs and improve service
Achieved >25% reduction in logistics costs
Driving improvements across the auto materials and parts suppliers value chain
Our people have an average 25 years' experience driving improvements in EBITDA, cash, growth, quality and product time-to-market across all segments of the auto materials, components and parts manufacture supply chain.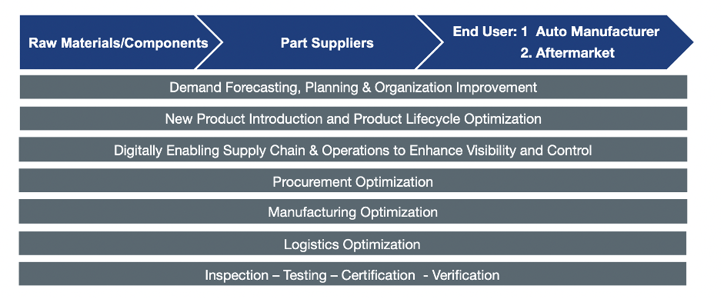 As specialists in procurement, manufacturing, logistics and digital supply chain enablement, we help you accelerate measurable improvements across the plan-buy-make-move-fulfill supply chain to deliver the greatest value to customers and stakeholders at the lowest cost and risk to business. We call this Total Value Optimization (TVO)™.
Our supplier base now understands that our organization brings a much larger spend to the market than was previously visible, and we understand the risks and opportunities within our supply chain. I would recommend Maine Pointe to any organization looking to transform its procurement, sales and operations planning and data analytics capabilities into competitive advantages." Rick Dorris Interim CEO/COO Astec Industries
I

am happy to report that our savings targets were exceeded. We were supported by a strong Maine Pointe team - from the initial analysis to the end of the project - and their practical and linear approach to the project has laid a solid foundation for future improvements within our organization." Gary Cohen, CEO Qualitor
Maine Pointe's approach was to deploy very knowledgeable technical detailed resources on the ground that worked hand in hand with our employees to understand the operation and develop the right tools for the business to drive the success we needed. From my experience, this sets Maine Pointe apart from other consulting firms." Gary McCloskey, VP Operations & Supply Chain EaglePicher Technologies
Get in touch
We have the remote delivery capabilities and industry expertise to help accelerate your supply chain and operations initiatives immediately. Contact us to discuss how Total Value Optimization (TVO)™ can help you rebalance your business and build the foundations for a resilient, agile, digitally enabled supply chain and operations of the future.