Improving time-to-market in the most efficient, differentiated and competitive way
The risk dynamics related to global supply chain disruption, shortening product lifecycles, slim operating margins and the continual need to drive innovation are set to continue. High-tech and electronics executives are under increasing pressure to improve supply chain agility, resilience, visibility and drive EBITDA, cost, cash and product performance in a practical, accelerated, measurable way.
Deep insights & experience - from raw materials, to manufacturing, to delivery
Maine Pointe, a member of the SGS Group, is a global supply chain and operations consulting firm trusted by many high-tech & electronics chief executives and private equity firms to drive compelling economic returns for their companies. Our supply chain and operations engagements deliver a ROI between 4:1 and 8:1 and we provide a unique 100% engagement fee guarantee based on annualized savings.
Maine Pointe consultants, working side-by-side with our team, elevated our competitive edge in the marketplace and positioned our company to absorb additional work through sales via organic growth or mergers and acquisitions." Mike Lane Chief Executive Officer, Nevco
Delivering accelerated, sustainable results
Company
Results
Global high-tech transit solutions provider (CS210)



Improved EBITDA by 32%
Deployed data analytics to provide end-to-end supply chain visibility
Rationalized three internal manufacturing facilities
Streamlined NPI process and enhanced S&OP process

Global audio and technology consumer products company (CS194)



Almost doubled EBITDA
Achieved procurement savings of 19% with YOY continuous improvement commitments of 5%
Accelerated speed-to-market for deployment of intellectual property in new product launches
Drove logistics savings of 15%

Provider of high-tech solutions to the travel sector (CS242)



Delivered a $24M increase in enterprise value

Helped the CEO, CFO and PE team define the path forward in the face of the global pandemic

Helped our client avoid bankruptcy and financial restructuring despite extraordinary market and economic conditions

Rationalized workforce to take out cost while maintaining expertise

Global technology company (CS220)



Established global procurement operation across 35 sites across NA, EU & AP
Installed procurement management operating system (PMOS) to achieve best value & increase product margins
Drove accelerated value in high precision, low-volume technology environment
Trained cross-functional team members in 22 sites worldwide

Global nanotechnology company (CS217)



Increased revenue by 27% in one plant and 16% in another by improving throughput to capitalize on growth opportunities
Enhanced procurement competitiveness and drove double-digit savings across business
Improved forecasting, management visibility, KPIs and inventory control as part of an enterprise-wide sales and operations planning (S&OP) process

High-tech & electronics manufacturer (CS200)



Transitioned to higher-tier, better quality manufacturers at 25% lower cost
Improved production capacity to support 20% revenue increase
Delivered 21% savings across procurement, logistics and field installation spend
Improved EBITDA by 16%

Global, high-tech provider of systems & services to transportation & defense markets (CS223)



Developed a centralized global procurement strategy
Reduced global procurement spend by 10.5% across 17 major categories
Achieved category savings as high as 50%
Established a measurable, sustainable, auditable process to ensure continued savings
Driving measurable improvements across the high-tech & electronics value chain
Our people have an average of 25 years' experience driving improvements in EBITDA, cash, growth and product time-to-market across all segments of high-tech manufacturing including electronic products; nanotechnology; electrical equipment and appliances; wireless and aviation communications; through to semiconductor and other electronic components.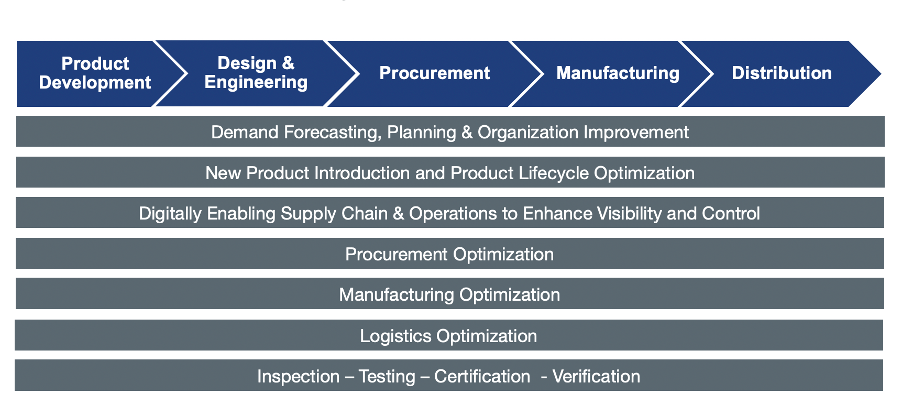 As specialists in procurement, manufacturing, logistics and digital supply chain enablement, we help you accelerate measurable improvements across the plan-buy-make-move-fulfill supply chain to deliver the greatest value to customers and stakeholders at the lowest cost and risk to business. We call this Total Value Optimization (TVO)™.
Get in touch
We have the remote delivery capabilities and industry expertise to help accelerate your supply chain and operations initiatives immediately. Contact us to discuss how Total Value Optimization™ can help you rebalance your business and build the foundations for a resilient, agile, digitally enabled supply chain and operations of the future.