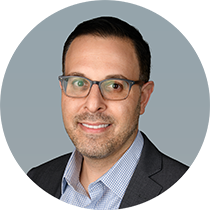 Dan Ginsberg
Managing Director
Dan brings over 20 years of experience in consulting and leadership, supporting company management, private equity sponsors and other key stakeholders in realizing EBITDA and cashflow results through operational and strategic performance improvement initiatives.
He has a track record of more than 250 projects with ~150 clients and ~100 sponsors, delivering over $900M in measurable benefits and much more in exit values. He works with both stable and distressed middle market businesses, leveraging his experience in supply chain & operations, finance, data analytics & automation and building high performance teams across a wide variety of industries.
Dan studied Economics in a five-year bachelors of science/masters program at the George Washington University where he graduated magna cum laude.
Select experiences from his career include:
Led operational turnaround of a Top 10 Global Financial Services company, achieving $145M in benefits over 3 years and 4 operating cos.
Delivered $20M in EBITDA gains through direct procurement and logistics optimization for an international player in the water filtration market.
Achieved a 30% cash flow gain for a PE-owned $500 million marketing services company through AR and Order-to-Cash (O2C) initiatives.
Conducted an assessment of the manufacturing processes and facilities of specialty chemicals carve-out, ultimately leading to double-digit savings through Lean, 5S, global supplier sourcing, freight, transportation and organizational change initiatives.
Delivered $7M in bottom line annual benefits to the largest provider of geothermal liners through strategic sourcing of resins and other direct materials across 4 continents.
Developed a truck and rail transportation network analysis and performance improvement program that reversed a trend in margin deterioration for a major N. American paper manufacturer.
Was an early-mover in providing data analytics and automation solutions to middle market organizations, providing game-changing results by leveraging a talented resource base in combination with Alteryx, Tableau, Power BI and other workflow, visualization and AI software tools.
Dan has worked in many industrial, consumer, retail and services industries and has substantial onsite experience working directly with executives and senior management on due diligence, performance improvement, value creation, carve-outs and M&A.
Talk to Dan Ginsberg
Submit this form to set up a chat with Dan.