Challenges and Opportunities in the Sealants & Adhesives Market
Derek Kurzenknabe, Vice President Chemicals and Oil & Gas, shares his thoughts on how recent developments and future trends present both challenges and opportunities for the sealants & adhesives market.
Q1. The sealants & adhesives (S&A) market is expected to grow from $45B in 2014 to over $59B in 2020. How are companies positioning themselves for this growth?
Derek Kurzenknabe: As interdependencies between customers and suppliers become more globally diverse, manufacturers are showing an increased focus on improving the end-to-end global supply chain. There are four key areas of focus:

1. The cost of raw materials. This is the largest cost component in the S&A industry representing 53-63% of cost of goods sold. Since the starting raw materials are not crude oil at all but extensively refined intermediate products, there is little correlation between the price of crude oil and the price of adhesives. Fluctuations in price and availability of raw materials are often driven by outages and overhauls at the plant (whether planned or not).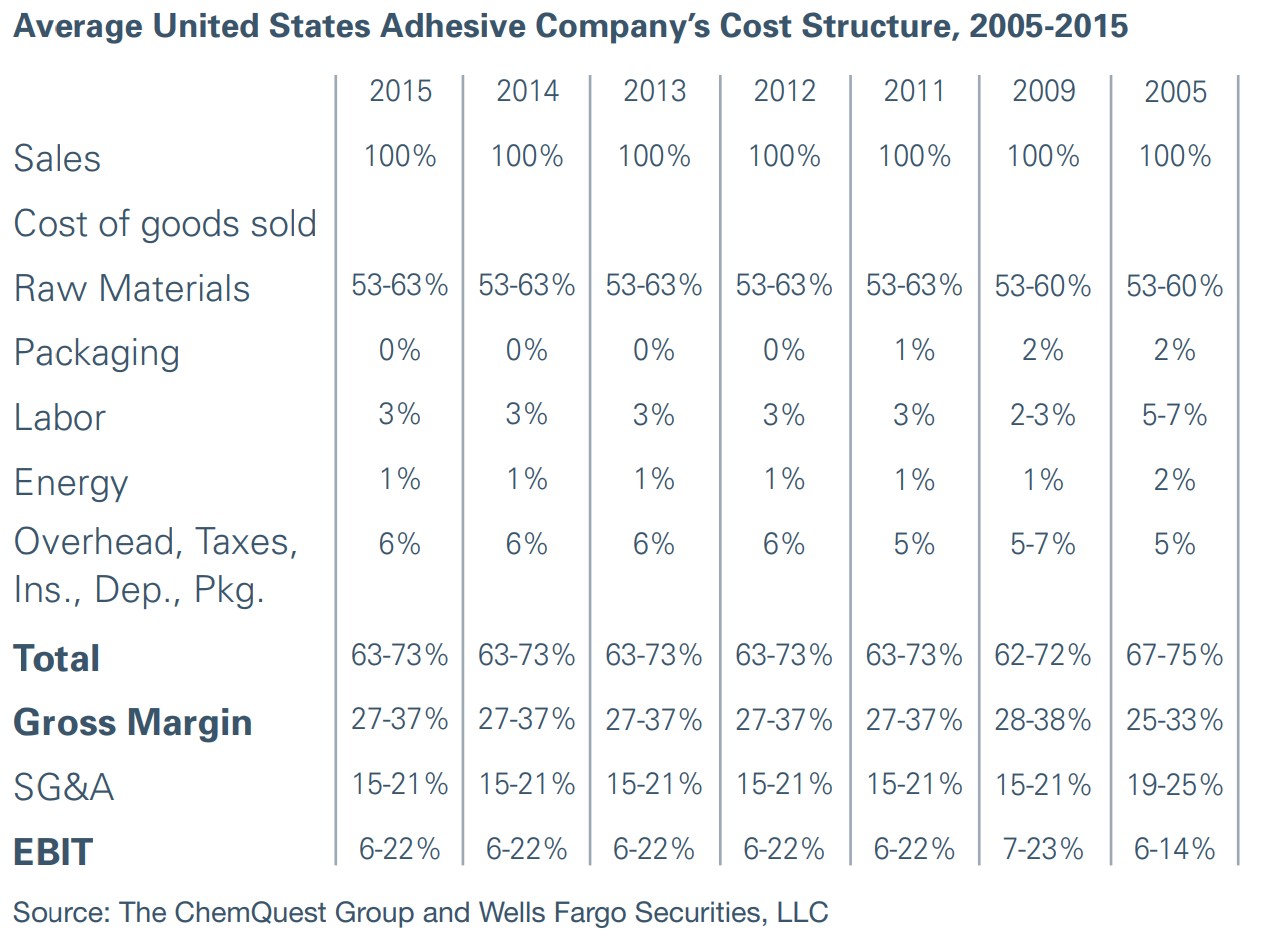 2. Ongoing Consolidation. Adhesives and sealants firms have been one of the most active areas in chemicals M&A with more than 85 deals taking place between 2014-2016. The evolving structure of the industry itself is conducive to a high level of M&A activity. With just six companies currently accounting for about 40% of the global S&A market value, the remaining 60% consists of hundreds (or more) of small and medium-sized companies that form a diverse pool of attractive acquisition candidates. Relatively few of these companies have revenues over $100M.
3. Globalization of the market. M&A activity has been driven largely by globalization, so what we're finding is that, in the
supply chain, suppliers to the adhesives and sealants sector are consolidating and becoming more global in their capabilities. Further downstream, the adhesives and sealants companies' customers have been going through their own consolidations.
With executives and shareholders across the industry actively looking at M&A opportunities to drive top and bottom-line expansion, it pays to be prepared. Preparation involves conducting pre-acquisition due diligence, helping break down the functional and cultural silos that hamper successful post-acquisition integration, and assisting with centralization, synergy and cost reduction and strategic asset disposals.
4. In the face of significant global competition, S&A companies working to become more effective and efficient across their supply chains are placing an ever-growing focus on customer service. A clear and effective focus on right product, right place, right time and right quantity performance is critical for competitive advantage. According to research by AMR Research, companies that get this right have a 5% higher profit margin, carry 15% less inventory, enjoy 25% shorter cash-to-cash cycle times and boast more than 15% better perfect order ratings compared to their peers.
Q2. In an environment characterized by constant consolidation and spin-offs, what are the greatest challenges facing executives?
Derek Kurzenknabe: One of the biggest hurdles faced by any company in a consolidating market is how to successfully integrate multiple cultures, eliminate non value-add activities, and drive the right behaviors across the new organization. Companies have a lot on their plate during a merger or spin-off and often find themselves without enough people to focus on synergies in addition to their regular, official job. We see many companies bring in outside support to bring synergy savings forward by quarters or even years.
For example, we helped one multibillion-dollar organization in the chemicals space rapidly align leadership and maintenance teams behind a common goal to reduce costs and improve accountability and control post-merger. As a result, the newly created company achieved 14% annualized savings and a ROI of 6.1:1. Not only that, we are on track to help the company to deliver over $100M in savings for the newly formed organization.
Q3. What steps can executives take to ensure they have an efficient supply chain that is capable of capturing growth and profitability improvement opportunities?
Derek Kurzenknabe: In a shifting market, it is no longer enough to focus on business functions in isolation. The key to achieving significant and sustainable cost reduction lies in the ability to release value potential across procurement, operations and
logistics. At Maine Pointe we call this Total Value Optimization™. In our experience, raw materials are frequently being procured higher than they should be. This situation is exacerbated by the fact many companies have leaned-out their in-house procurement skills. As a result, they find themselves without the negotiating experience or availability of talent required to look deeply into their supplier relationships and drive out costs. Taking a cross-functional TVO™ approach changes the nature of your supplier relationships. It breaks down supplier formulas to re-orient their engagement toward a lower cost basis, reducing your direct materials cost. It is a more forward-thinking strategy that takes a holistic view to optimize the impact on your organization's top and bottom line. Adopting this approach can yield substantial results relatively quickly. For example, by implementing a world-class procurement system combined with a high-performance culture, we helped a client in the chemicals space achieve a double-digit EBITDA improvement and cut raw materials costs by 11%.
Q4. What approaches can companies use to improve overall operational effectiveness (OEE), first pass yield and sustain operational excellence?
Derek Kurzenknabe: There are significant opportunities for S&A companies to capture more market share through operational excellence. There is a poor return on increasing output and investing in innovation and value-added services when your existing operational base is sub-optimal. In our experience the opportunities here lie in the ability to improve OEE throughput and productivity improvements to maximize gains from existing assets, increase market share and improve EBITDA. S&A executives who want to significantly improve OEE can employ a number of tactics including:
Applying 'Theory of Constraints' methodology to remove
bottlenecks from the manufacturing process


Implementing maintenance excellence with an optimized
work management process underpinned by the desired
work behaviors


Introducing reliability best practices, including RCA,
RCFA, lean techniques, process flow and corresponding data
collection


Utilizing short-interval controls to minimize production upsets
and single minute exchange of dyes (SMED) techniques to
improve changeovers


Supplementing the workforce with additional support to
accelerate and sustain performance improvements
In our experience, while many senior executives are aware of the value they can derive from implementing these methodologies and techniques, they often lack the internal resources to put them into practice.