Actionable Data and Vendor Optionality Secure Organization's Future Growth (CS279)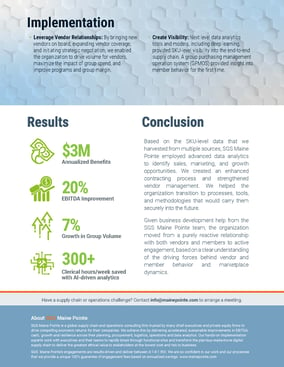 Analysis
As a food service equipment buying group, this general procurement organization operates in a small niche negotiating with vendors on behalf of its members. The organization suffered supply chain disruptions during and after the pandemic, and then further turmoil when the management team turned over. Their business, already operating with a narrow margin, flattened out as vendors and members began exiting the relationship.
While their goal is to increase the purchasing power of their members, the organization's leaders had little visibility into their supply chain and no underpinning of data to understand the motivations and behaviors of members. They also lacked any mechanism for tracking progress toward their own goals and struggled to maintain their position in the marketplace.
Implementation
Leverage Vendor Relationships: By bringing new vendors on board, expanding vendor coverage, and initiating strategic negotiation, we enabled the organization to drive volume for vendors, maximize the impact of group spend, and improve programs and group margin.
Create Visibility: Next level data analytics tools and models, including deep learning, provided SKU-level visibility into the end-to-end supply chain. A group purchasing management operation system (GPMOS) provided insight into member behavior for the first time.
Results
$3M Annualized Benefits
20% EBITDA Improvement
7% Growth in Group Volume
300+ Clerical hours/week saved with AI-driven analytics
Conclusion
Based on the SKU-level data that we harvested from multiple sources, SGS Maine Pointe employed advanced data analytics to identify sales, marketing, and growth opportunities. We created an enhanced contracting process and strengthened vendor management. We helped the organization transition to processes, tools, and methodologies that would carry them securely into the future. Given business development help from the SGS Maine Pointe team, the organization moved from a purely reactive relationship with both vendors and members to active engagement, based on a clear understanding of the driving forces behind vendor and member behavior and marketplace dynamics.
×
Actionable Data and Vendor Optionality Secure Organization's Future Growth