Aligning procurement with product development and operations (CS186)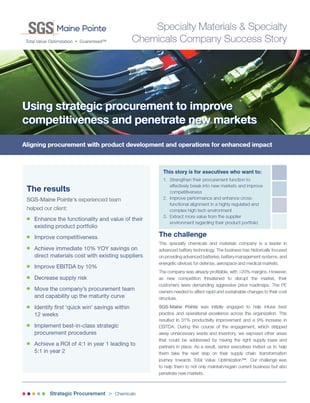 This specialty chemicals and materials company is a leader in advanced battery technology. The business has historically focused on providing advanced batteries, battery management systems, and energetic devices for defense, aerospace and medical markets.
The company was already profitable, with >20% margins. However, as new competition threatened to disrupt the market, their customers were demanding aggressive price roadmaps. The PE owners needed to affect rapid and sustainable changes to their cost structure.
SGS-Maine Pointe was initially engaged to help infuse best practice and operational excellence across the organization. This resulted in 31% productivity improvement and a 9% increase in EBITDA. During the course of the engagement, which stripped away unnecessary waste and inventory, we exposed other areas that could be addressed by having the right supply base and partners in place.
As a result, senior executives invited us to help them take the next step on their supply chain transformation journey towards Total Value Optimization™. Our challenge was to help them to not only maintain/regain current business but also penetrate new markets.
The Results with SGS-Maine Pointe:
Enhance the functionality and value of their existing product portfolio
Improve competitiveness
Achieve immediate 10% YOY savings on direct materials cost with existing suppliers
Improve EBITDA by 10%
Move the company's procurement team and capability up the maturity curve
Identify first 'quick win' savings within 12 weeks
Implement best-in-class strategic procurement procedures
Achieve a ROI of 4:1 in year 1 leading to 5:1 in year 2
Download the PDF to read the full story.
×
Aligning procurement with product development and operations for enhanced impact (CS186)