Competitive differentiation across the value chain (CS205)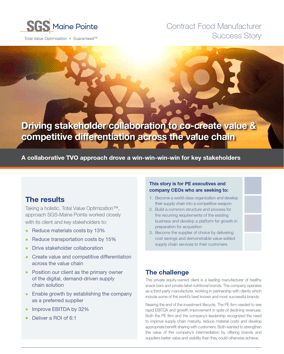 Analysis
This private equity-owned client is a leading manufacturer of healthy snack bars and private-label nutritional brands. The company operates as a third-party manufacturer, working in partnership with clients which include some of the world's best known and most successful brands.
Nearing the end of the investment lifecycle, The PE firm needed to see rapid EBITDA and growth improvement in spite of declining revenues. Both the PE firm and the company's leadership recognized the need to improve supply chain maturity, reduce material costs and develop appropriate benefit sharing with customers. Both wanted to strengthen the value of the company's intermediation by offering brands and suppliers better value and visibility than they could otherwise achieve.
Implementation
Our industry and subject matter experts worked closely with the established client team. We looked for solutions that would deliver sustainable wins to the PE firm, our client (the co-manufacturer), brands and suppliers including:
Using advanced data analytics to create a mature digital supply chain network with visibility across the supply chain and the ability to plan forecast demand


Implementing a strategic sourcing process to reduce material costs and enable growth


Developing appropriate benefit sharing programs with customers to position the company as a preferred supplier


Implementing corporate supply and transportation agreements that support the needs of the organization


Deploying our LOI specialists to train and mentor key team members and key stakeholders in strategic procurement processes and associated techniques to support the corporate procurement vision and create repeatable, sustainable benefits


Conducting a focus and alignment session to define a clear ORCI® for the corporate and local procurement organizations


Conducting a supplier forum to reinvigorate the supplier community and help them better understand the benefits our client brings to them in terms of scale and supply chain maturity
The systems and processes we helped implement enabled our client to take control of customer and supplier relationships and position themselves as the primary owners of the digital, demand-driven supply chain solution.
Results
Reduce materials costs by 13%
Reduce transportation costs by 15%
Drive stakeholder collaboration
Create value and competitive differentiation across the value chain
Position our client as the primary owner of the digital, demand-driven supply chain solution
Enable growth by establishing the company as a preferred supplier
Improve EBITDA by 32%
Deliver a ROI of 6:1.
×
Competitive differentiation across the value chain