De-risking a Reverse Merger and Accelerating Integration and Value Capture (CS273)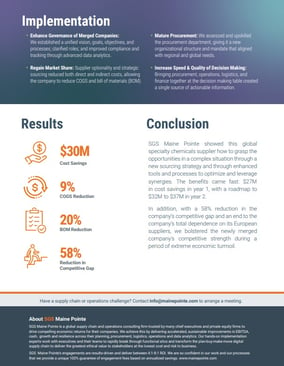 Analysis
A leading Private Equity sponsor was planning a complicated reverse merger: carving out a global chemical company and merging it with a well-known family-owned business.
As a long-time trusted partner of SGS Maine Pointe, the PE firm knew we could identify opportunities, challenges, and obstacles before the merger, expand on synergies, and accelerate value creation, even for two firms with very different cultures and even in a deteriorating global economy.
During the engagement, the new combined company realized it was losing business fast due to demand erosion. The SGS Maine Pointe team conducted a competitive assessment to pinpoint the problem: the high cost of materials had skyrocketed their cost of goods sold (COGS) to 30% more than the competition. Turning around that situation became critical.
Implementation
Enhance Governance of Merged Companies: We established a unified vision, goals, objectives, and processes; clarified roles; and improved compliance and tracking through advanced data analytics.
Regain Market Share: Supplier optionality and strategic sourcing reduced both direct and indirect costs, allowing the company to reduce COGS and bill of materials (BOM).
Mature Procurement: We assessed and upskilled procurement department, giving it a new organizational structure and mandate that aligned with regional and global needs.
Increase Speed & Quality of Decision Making: Bringing procurement, operations, logistics, and finance together at the decision making table created a single source of actionable information.
Results
$30M Cost Savings
9% COGS Reduction
20% BOM Reduction
58% Reduction in Competitive Gap
Conclusion
SGS Maine Pointe showed this global specialty chemicals supplier how to grasp the opportunities in a complex situation through a new sourcing strategy and enhanced tools & processes to optimize and leverage synergies. The benefits came fast: $27M in cost savings in year 1, with a roadmap to $32M to $37M in year 2.
In addition, with a 58% reduction in the company's competitive gap and an end to the company's total dependence on its European suppliers, we bolstered the newly merged company's competitive strength during a period of extreme economic turmoil.
×
De-risking a Reverse Merger and Accelerating Integration and Value Capture