Expediting a Manufacturer's Goal to Double Revenue (CS267)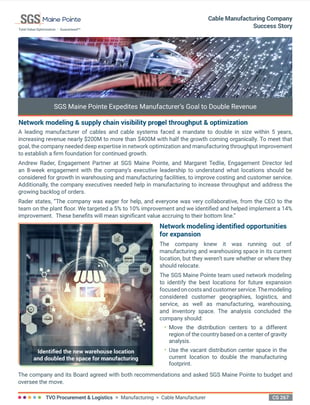 A leading provider of cables and cable systems aimed to double in size in 5 years but faced problems with space, scalability, and information hoarding.
With little visibility into their supply chain, the company struggled to decide if they should relocate to gain space. A lack of people, planning, scheduling, and training had left manufacturing staff struggling to improve operations. Some machines were running at 80% of speed and too many were idle.
A disconnect between HR, leadership, and the manufacturing floor compromised safety, productivity, and the data needed for decision making and gap analysis.
The Results with SGS-Maine Pointe:
Clarified decision to relocate distribution center, which would double size of manufacturing area and make the supply chain more efficient.
Brought $3M to $5M in incremental profit by increasing production throughput 14%, with improved staffing, less machine downtime, and faster running speeds.
Identified potential for further increases in future manufacturing capacity by closing staffing and planning gaps.
Drove business value by creating and implementing more than 20 safety, productivity, onboarding, and training improvements.
Closed disconnect between HR, operations, leadership, and manufacturing floor with Daily Schedule Control, Warehouse Transition plan, and Plant Improvement plan and with greater visibility into the supply chain.
5:1 ROI in year one.
Download the PDF to read the full story.
×
Expediting a Manufacturer's Goal to Double Revenue (CS267)