Implementing visibility model to save costs and gain savings (CS280)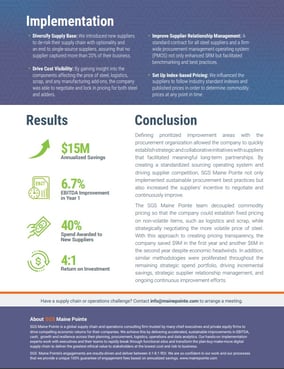 Analysis
Two complementary companies that fabricate custom steel equipment for large distribution centers, including mezzanines, chutes, and platforms, were deep into a post-merger integration of several North American facilities. The newly merged company decided they should look at how they could buy steel—the major contributor to their cost-of-goods sold (COGS)—more strategically.
Lacking contracts, pricing visibility, and supplier optionality, they had a limited ability to make strategic sourcing decisions or mitigate price and market volatility. Those problems had been covered up by significant sales growth but came to the forefront when the growth plateaued.
By calling in SGS Maine Pointe, they hoped to control costs, uplift category management processes, and gain more control over steel availability and cost.
Implementation
Diversify Supply Base: We introduced new suppliers to de-risk their supply chain with optionality and an end to single-source suppliers, assuring that no supplier captured more than 20% of their business.
Drive Cost Visibility: By gaining insight into the components affecting the price of steel, logistics, scrap, and any manufacturing add-ons, the company was able to negotiate and lock in pricing for both steel and adders.
Improve Supplier Relationship Management: A standard contract for all steel suppliers and a firmwide procurement management operating system (PMOS) not only enhanced SRM but facilitated benchmarking and best practices.
Set Up Index-based Pricing: We influenced the suppliers to follow industry standard indexes and published prices in order to determine commodity prices at any point in time.
Results
4:1 ROI

$15M annualized savings

40% spend awarded to new suppliers

6.7% EBITDA improvement in year 1
Conclusion
Defining prioritized improvement areas with the procurement organization allowed the company to quickly establish strategic and collaborative initiatives with suppliers that facilitated meaningful long-term partnerships. By creating a standardized sourcing operating system and driving supplier competition, SGS Maine Pointe not only implemented sustainable procurement best practices but also increased the suppliers' incentive to negotiate and continuously improve.
The SGS Maine Pointe team decoupled commodity pricing so that the company could establish fixed pricing on non-volatile items, such as logistics and scrap, while strategically negotiating the more volatile price of steel.
With this approach to creating pricing transparency, the company saved $9M in the first year and another $6M in the second year despite economic headwinds. In addition, similar methodologies were proliferated throughout the remaining strategic spend portfolio, driving incremental savings, strategic supplier relationship management, and ongoing continuous improvement efforts.
×
Implementing visibility model post-merger to save costs and gain savings