Improving availability, utilization, and productivity at mine site (CS285)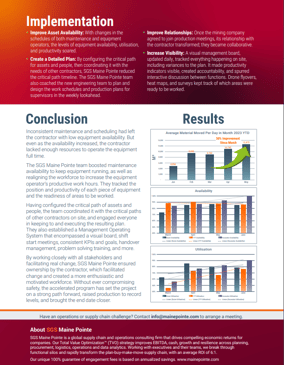 Analysis
When a mining company closed one of its largest mines, it contracted with a bulk earth moving company to help restore the site to its original condition. Labor shortages, planning issues, and low equipment availability and utilization put the project over a year behind schedule.
The frustrated mining company found itself in a difficult situation: they had tried to implement controls and even sent their own planner to the site. But the issues remained, and changing contractors would have only compounded the delay.
Both the mining company and the contractor struggled to turn the situation around and find a new direction. That's when the company called in SGS Maine Pointe for our combination of mining expertise and boots-on-the-ground management.
Implementation
Improve Asset Availability: With changes in the schedules of both maintenance and equipment operators, the levels of equipment availability, utilization, and productivity soared.

Create a Detailed Plan: By configuring the critical path for assets and people, then coordinating it with the needs of other contractors, SGS Maine Pointe reduced the critical path timeline. The SGS Maine Pointe team also coached the new engineering team to plan and design the work schedules and production plans for supervisors in the weekly lookahead.
Improve Relationships: Once the mining company agreed to join production meetings, its relationship with the contractor transformed; they became collaborative
Increase Visibility: A visual management board, updated daily, tracked everything happening on site, including variances to the plan. It made productivity indicators visible, created accountability, and spurred interactive discussion between functions. Drone flyovers, heat maps, and surveys kept track of which areas were ready to be worked.
Results


Conclusion
Inconsistent maintenance and scheduling had left the contractor with low equipment availability. But even as the availability increased, the contractor lacked enough resources to operate the equipment full time.
The SGS Maine Pointe team boosted maintenance availability to keep equipment running, as well as realigning the workforce to increase the equipment operator's productive work hours. They tracked the position and productivity of each piece of equipment and the readiness of areas to be worked.
Having configured the critical path of assets and people, the team coordinated it with the critical paths of other contractors on site, and engaged everyone in keeping to and executing the resulting plan.
They also established a Management Operating System that encompassed a visual board, shift start meetings, consistent KPIs and goals, handover management, problem solving training, and more.
By working closely with all stakeholders and facilitating real change, SGS Maine Pointe ensured ownership by the contractor, which facilitated change and created a more enthusiastic and motivated workforce. Without ever compromising safety, the accelerated program has set the project on a strong path forward, raised production to record levels, and brought the end date closer.
×
Optimizing Sourcing, Construction, and Cost Reduction of Millions