Logistics Analysis Identifies $19.2M Savings, and Skyrockets ESG (CS274)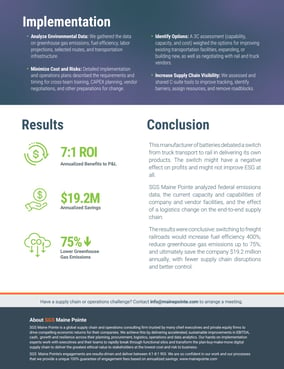 Analysis
A company that creates the batteries that power electric transportation around the world closely examined its own logistics and wondered if it could do better.
Would the environment benefit or suffer if they shifted from truck transportation to rail? Would their costs rise or fall? Would they have the infrastructure and operations knowhow to make the transition?
The company called in SGS Maine Pointe to provide an objective, end-to-end supply chain analysis of the environmental, financial, and organizational costs of switching from truck to
rail—and assess the impact on their suppliers and customers. We understood the company's concerns about meeting financial performance and ESG goals while realistically accounting for supply chain disruptions caused by labor disruptions, weather events, safety issues, capacity and capability limits, and regulations.
Implementation
Analyze Environmental Data: We gathered the data on greenhouse gas emissions, fuel efficiency, labor projections, selected routes, and transportation infrastructure.


Minimize Cost and Risks: Detailed implementation and operations plans described the requirements and timing for cross-team training, CAPEX planning, vendor negotiations, and other preparations for change.


Identify Options: A 3C assessment (capability, capacity, and cost) weighed the options for improving existing transportation facilities, expanding, or building new, as well as negotiating with rail and truck vendors.


Increase Supply Chain Visibility: We assessed and shared C-suite tools to improve tracking, identify barriers, assign resources, and remove roadblocks.
Results
7:1 ROI annualized benefits to P&L.
$19.2M annualized savings.
75% reduction in greenhouse gas emissions.
Conclusion
This manufacturer of batteries debated a switch from truck transport to rail in delivering its own products. The switch might have a negative effect on profits and might not improve ESG at all.
SGS Maine Pointe analyzed federal emissions data, the current capacity and capabilities of company and vendor facilities, and the effect of a logistics change on the end-to-end supply chain.
The results were conclusive: switching to freight railroads would increase fuel efficiency 400%; reduce greenhouse gas emissions up to 75%; and ultimately save the company $19.2 million annually, with fewer supply chain disruptions and better control.
×
Case Study: Logistics Analysis Identifies $19.2M Savings and Skyrockets ESG