Newly Merged Aerospace & Defense Companies Function as One (CS268)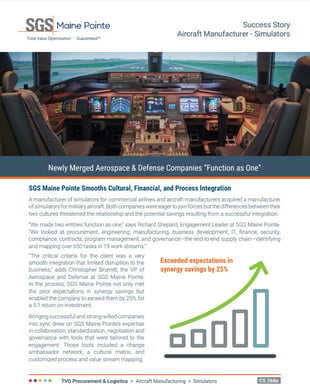 A manufacturer of simulators for commercial airlines and aircraft manufacturers acquired a manufacturer of simulators for the military. Both companies were eager to join forces but the differences between their two cultures threatened the relationship and the potential savings resulting from a successful integration.
The process of bringing two successful, strong-willed, but disparate companies into sync, while ensuring synergy savings, drew on SGS Maine Pointe's proven expertise in end-to-end supply chain collaboration, standardization, negotiation, and governance.
The Results with SGS Maine Pointe:
Exceeded expected synergy savings by 25%, for a total of $40+ million.
Chartered 650 tasks and milestones in detail, with daily and weekly updates of progress to plan and consistent KPIs and metrics.
Embedded early warning indicators (EWIs) for late starts or late completes to keep the progress on schedule from day one.
Increased efficiencies and effectiveness of teams, took the risk out of cultural integration, and established accountability.
5:1 ROI.
Download the PDF to read the full story.
×
Newly Merged Aerospace & Defense Companies Function as One (CS268)